The Mercedes-Benz Concept EQT previews the brand's new T-Class MPV, the electric version of which will be the ninth model from its EQ sub-brand.
Based on the upcoming second-generation Citan light commercial vehicle (LCV), the concept showcases Mercedes' plans for an LCV-derived MPV offered with petrol, diesel and pure-electric drivetrains. Combustion variants will be sold as the T-Class, while the EV will take the EQT name into production.
"We are expanding our portfolio with the T-Class. It will appeal to families and private customers who enjoy leisure activities and need a lot of space and maximum variability. And as the Concept EQT shows: we will also be offering a fully electric model in this segment in the future," says Marcus Breitschwerdt, head of Mercedes-Benz Vans.
Set to rival the Volkswagen Caddy, Citroen Berlingo and Vauxhall Combo when UK sales get underway in 2022, the new model has been developed in partnership with Renault; the T-Class is twinned with the third-generation Kangoo, while the EQT is a sister model to the recently announced Kangoo E-Tech Electric.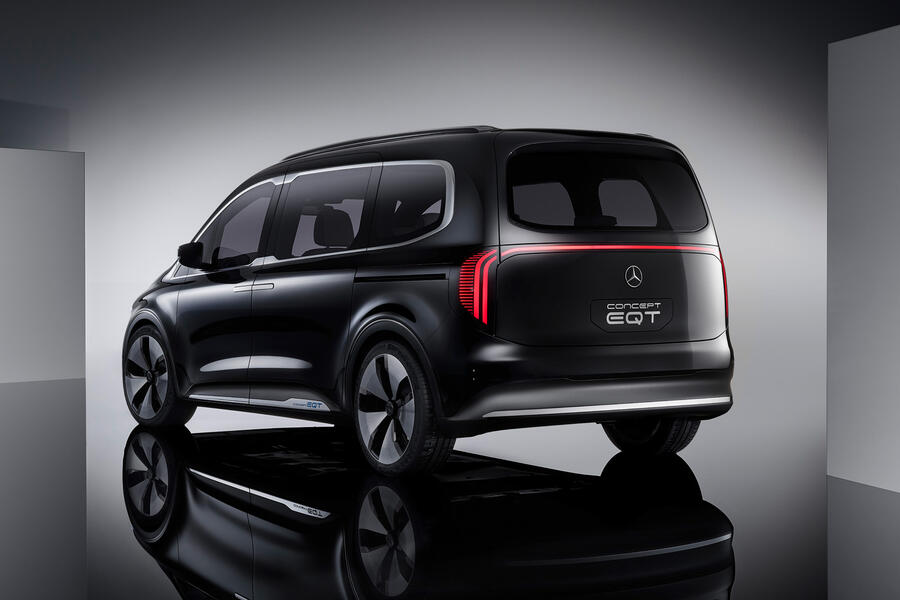 The Concept EQT previews the styling of the new Mercedes-Benz MPV with production-bound cues including a prominent black panel grille featuring a 3D star effect and slim LED headlamps up front as well as a full-width rear light bar. Concept car flourishes include large wheelhouses, 21-inch wheels shod with low profile 235/45 R21 tyres, an expansive panoramic glass roof and a leather-lined interior featuring an integrated skateboard carrier at the rear.
The production versions of the T-Class and EQT will be unveiled later this year, with toned-down design features but offering overall packaging and accommodation largely unchanged from the concept.