Lotus will reveal its groundbreaking all-electric Evija hypercar later today.
It will be shown at an exclusive event in Central London this evening, barely a few months after Autocar first revealed the project. 
Pronounced "eh-vi-ya", meaning 'the living one', or 'first in existence', the Evija is shaping up to be the most ambitious car in the firm's history.
UPDATE: The Lotus Evija has been officially revealed - read the full story here
Lotus recently confirmed for the first time exactly how many examples will be produced. 130 are planned to be made available to own, up from previous estimates after "several hundred potential owners came forward to express their interest in the new car". It will be built in Norfolk alongside the rest of the maker's range.
The Evija will be Lotus's first all-new production car since 2008. Lotus also claims it will be the first fully electric hypercar built and to go on sale from a British manufacturer. A preview image has been released showing a side profile of the new car, and Autocar was recently given an exclusive walk-around of a full-size clay model at the firm's Hethel base.
The model's previous Type 130 moniker was a reference to a number of innovative models that have appeared throughout the Norfolk brand's 71-year history, beginning with the Type 14 Elite in 1957 – claimed to be the world's first composite monocoque production car. The most recent, the Type 111 (the world's first aluminium and bonded extrusion construction road car) became the Elise.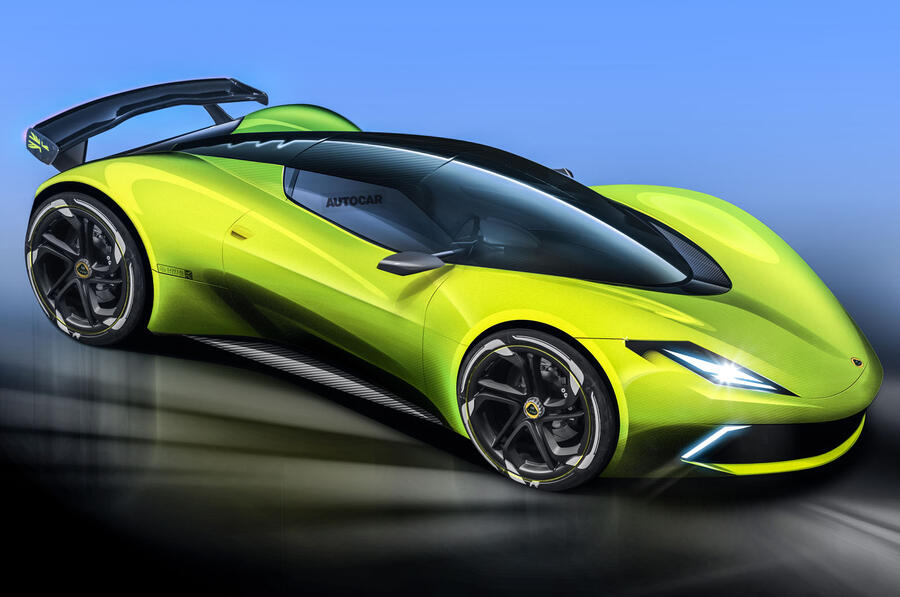 As the official picture suggests, the Evija is low and wide. Lotus design director Russell Carr, who showed the model to Autocar, says it is a similar length to the existing Evora - which is 4.4 metres long - but will sit closer to the ground and be nearly two metres wide.
It uses a carbonfibre structure and will be built in Hethel away from the company's main production line. The cabin is tightly proportioned and adopts the teardrop form familiar from hypercars like the Ford GT40, to better allow airflow to pass around it.
The most impressive feature is one that isn't hinted at by the official rendering - two substantial air tunnels in the rear bodywork which have the tail light elements integrated around their exists. It's a detail that Carr says has been inspired by the venturi tunnels of LMP sports prototype racing cars.
The battery pack will be positioned entirely behind the passenger compartment, with drive sent to all four wheels. No other details are forthcoming at the moment, beyond the fact - as previously reported - that the powertrain is being developed by Williams Advanced Engineering, making this a collaboration between two of the most famous names in Formula 1 history.