The new Lamborghini Sián - a hybrid hypercar packing 808bhp from an electrified V12 - has been shown on the move for the first time as subsidiary company Ducati unwrapped a matching version of its Diavel 1260 sports motorbike.
Limited to 630 units, the Diavel 1260 Lamborghini is finished in the same Verde Gea and Oro Electrum livery as the Sián and swaps a number of standard components for lightweight, performance-focused items, including forged wheels and carbonfibre bodywork elements. Hexagonal exhaust tips and a subtle Y-shaped motif on the saddle are nods to some of Lamborghini's characteristic modern styling cues.
While the Sián sports the number 37, in reference to the birth year of the late Volkswagen Group chairman Ferdinand Piech, the bike wears the number 63 in reference to 1963, the year Ducati was founded. The two models can be seen together in the below video.
The developments mean the Sián will offer enhanced acceleration over Lamborghini's conventionally fuelled models, sprinting from zero to 62mph in under 2.8sec, with top speed claimed to be in excess of the SVJ's 217mph.
Power is not stored in a conventional lithium ion battery, but rather generated by a supercapacitor unit three times as powerful as a cell of the same weight, and three times lighter than a battery with the same output. The device, mounted ahead of the engine for enhanced weight distribution, is an evolution of that found in the Aventador to power the starter motor and can store 10 times as much power as the original.
A regenerative braking system, developed in-house, sends power to the supercapacitor unit under deceleration. Energy generated in this way is available as a power boost at the discretion of the driver at speeds of up to 81mph.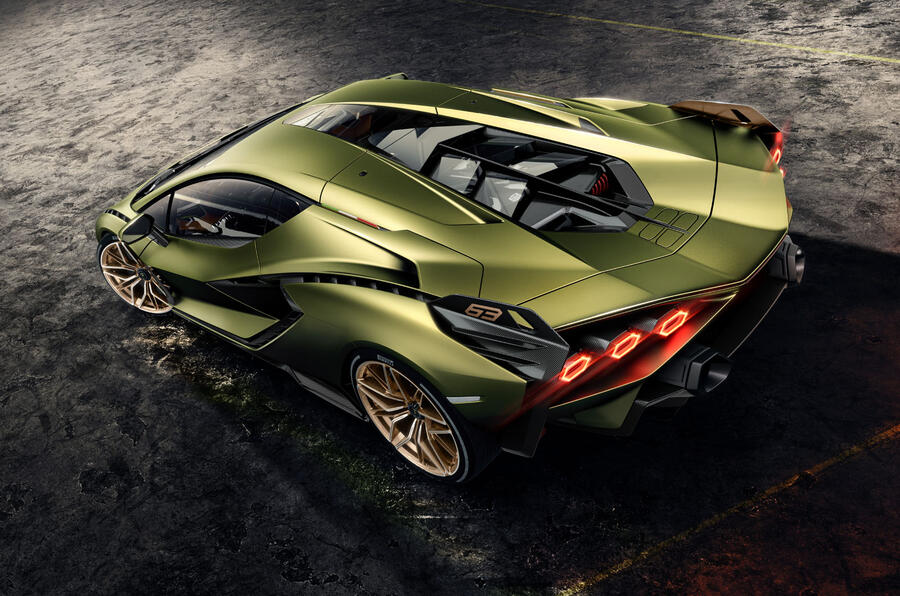 The electric motor also allows for a smoother acceleration curve, activating during gearchanges to counter the effect of deceleration and resulting in a 43-75mph time that's 1.2sec quicker than that of the SVJ. Traction at lower speeds is improved as well, making the Sián 10% faster than a car without this system, according to its maker.