The i30 Fastback N will be only the second model from Hyundai's N performance sub-brand to be sold in the UK. It is actually the division's third model, but the US-market Veloster N isn't due to come here (much like the America didn't get the i30 N).
Aside from having a swoopier roofline than the Hyundai i30 N hatchback - Hyundai's product planners would have us call it a four-door coupe - the i30 Fastback N also has retuned dampers and a number of other suspension tweaks that make it more comfortable and compliant, and a little less demanding on a bumpy road.
The i30 Fastback N has now been revealed - take a look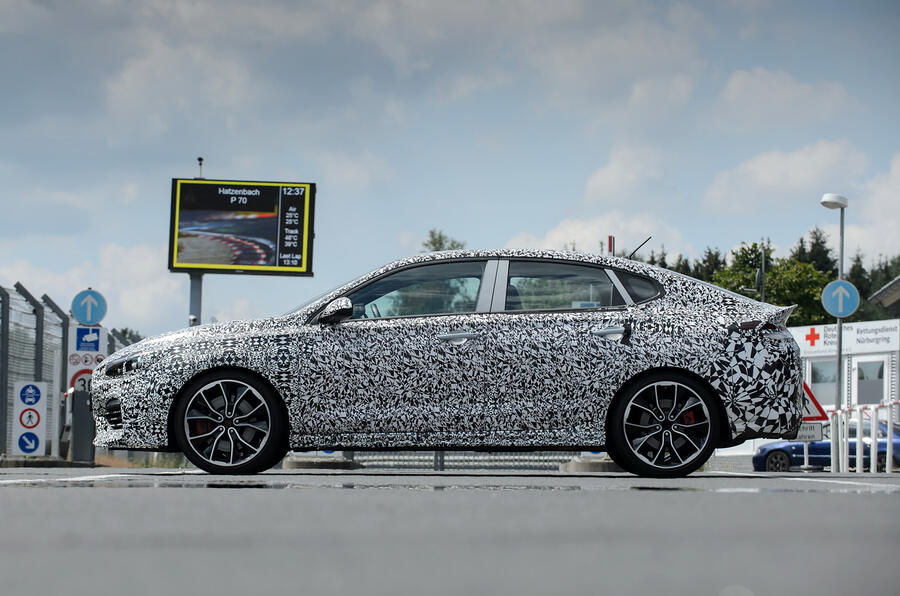 If the i30N hatchback is the tearaway, the i30 Fastback N is the more studious sibling. A little more sophisticated, and concerned with style as much as performance – although its engineers insist it's still fun to drive.
Weight is up ever so slightly, although the powertrains are completely unchanged. The 2.0-litre turbo petrol engine is available in two states of tune, producing 247 or 271bhp. The only gearbox option is a six-speed manual.
The car tested here is a pre-production prototype in Performance Package spec. That means it uses the more potent engine and also gets a limited slip differential, 19-inch wheels, bigger brakes, Pirelli P Zero tyres and a switchable exhaust.
The car will make its public debut at the Paris motor show this autumn before going on sale in the UK in February next year. The most obvious aesthetic difference between this model and the familiar i30N hatch will clearly be that roofline, but we will notice a handful of other styling changes once the camo wrap is peeled away.