Alfa Romeo is preparing its first electric vehicle for 2022 as the smallest in a trio of SUVs intended to bring the Italian premium brand back from the brink.
The electric compact SUV, similar in size to an Audi Q2, will be crucial in reviving the firm's dwindling sales in a fast-evolving market where emissions legislation is becoming increasingly tough.
The parent company of Alfa Romeo, Fiat Chrysler Automobiles, has been on the back foot with electrification, which is why its ongoing merger with the EV-savvy PSA Group should reap substantial benefits.
Alfa Romeo currently offers no electrified powertrain, but early next year it will launch a mid-size SUV, the Tonale, to be offered as a plug-in hybrid.
Back in 2018, Alfa Romeo announced bold plans to bring back the 8C supercar and the GTV as a Giulia coupé. But by late last year, its strategy had been pared back to just four more mainstream models.
Once the ageing Alfa Romeo Giulietta family hatchback is retired later this year, Alfa Romeo will sell only the Alfa Romeo Giulia and Alfa Romeo Stelvio. The Tonale will be on the road in 2021, followed by the smaller, electric SUV in 2022, completing the brand's four-strong line-up.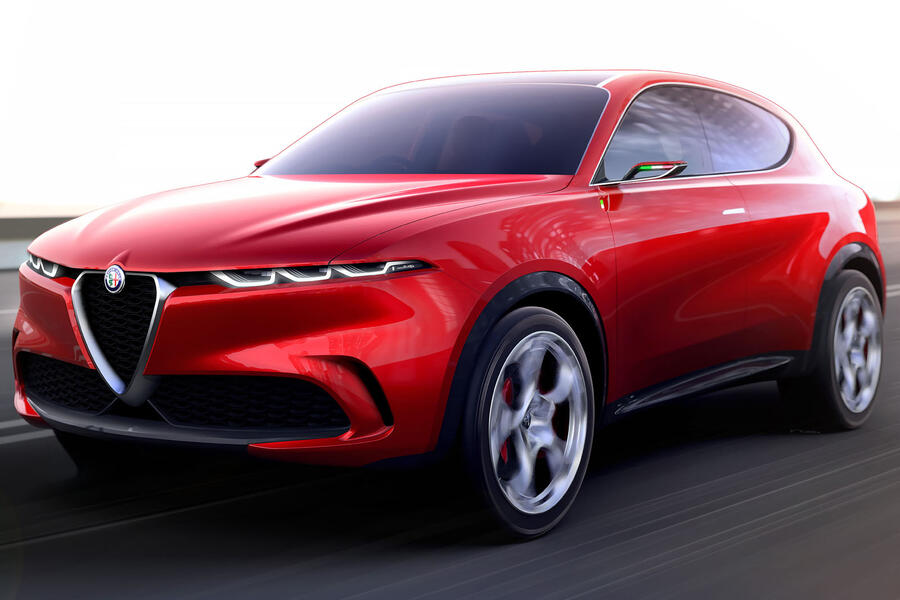 Alfa Romeo will rely on the two smaller SUVs to ensure it achieves its goal of selling 400,000 cars annually. The firm hasn't yet announced its 2019 global figures, having been delayed by the Covid-19 crisis, but it sold 54,365 cars in Europe – a drop of more than 50% on the year before.
It's not until Alfa Romeo hits that target that enthusiasts might get what they desire: the pretty sports cars for which the brand is known. The styling of the EV won't be identical to the Tonale, according to Alfa Romeo.
A spokesman said: "A family feel will be respected – we have style themes across the range – but we don't want to do a copy and paste across the line-up, because every segment has its own personality, and customers are different in terms of age and expectations."