Mercedes-AMG has extended its range of four-cylinder performance models with the introduction of the CLA 35 4Matic four-door coupé.
The recently revealed CLA is the third of Mercedes-Benz's latest generation of compact models to receive the AMG treatment, following the A35 4Matic hatchback and the recently announced A35 4Matic Saloon.
Pricing has yet to be announced, though the CLA 35 is planned to be positioned beneath the six-cylinder Mercedes-AMG C 43 and has been conceived to compete against the 2020 BMW M230i Gran Coupé and the Audi S3 Saloon. UK deliveries are expected to get underway in August.
Despite being close in conception to the four-door A35 Saloon, AMG is banking on the more expressive design of the CLA 35 to find favour among particular customers.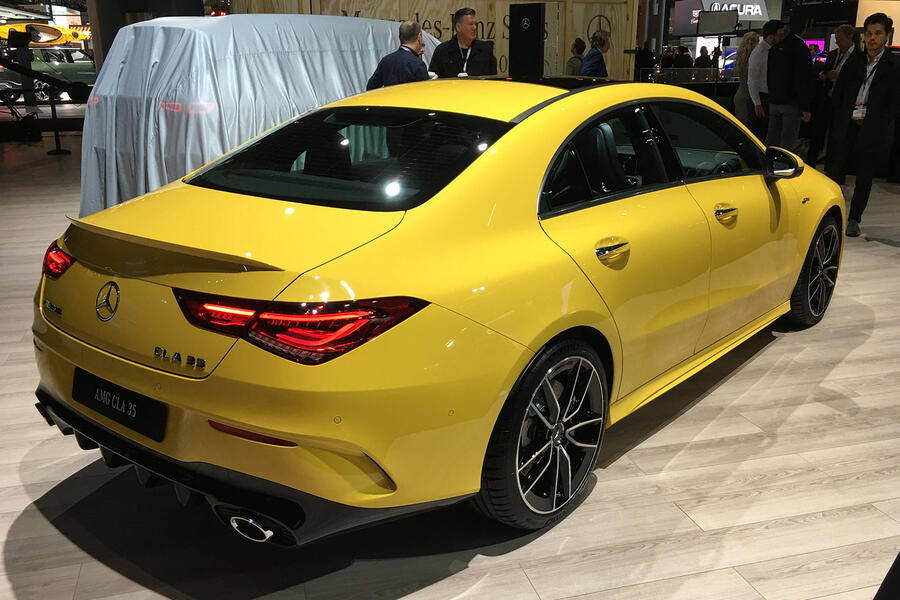 "The CLA 35 4Matic is an attractive offer for a young, active lifestyle target group," said Mercedes-AMG CEO Tobias Moers. "These customers define their requirements very clearly: they expect exciting design alongside superior performance and inspiring handling."
The new AMG model receives the same transversely mounted turbocharged 2.0-litre four-cylinder as the A35 variants. Based around the M254-designated unit used by the CLA 250, it produces 302bhp at 5800rpm and 295lb ft of torque at 3000rpm.
Drive is sent to all four wheels through a seven-speed dual-clutch automatic gearbox and multi-plate-clutch four-wheel drive system - a combination Mercedes-AMG says can vary the drive split from 100% to the front wheels to 50:50 front and rear depending on prevailing traction.
The German car maker quotes an official 0-62mph time of 4.9sec, or 0.1sec slower than the A35 4Matic Saloon, as well as an electronically limited top speed of 155mph. By comparison, the Audi S3 Saloon runs a turbocharged 2.0-litre four-cylinder petrol engine with 306bhp and 280lb ft. It's claimed to accelerate from 0-62mph in 5.2sec and reach the same 155mph top speed.