Autocar will mark the 75th anniversary of the inaugural RAC Rally – along with celebrating its role in organising the event – with a special display of historic machines at this year's Wales Rally GB. 
The special showcase will be part of the spectator stage at Oulton Park in Cheshire for Britain's round of the World Rally Championship. It will feature machines including the Lanchester 15/18 that won the first event in 1932, and present-day WRC machines including the Hyundai i20 and Toyota Yaris. 
In the 1930s, a director at Autocar magazine suggested the idea of a high-profile British rally event to the Royal Automobile Club to compete with the revered Monte-Carlo Rally. A campaign in the pages of Autocar resulted in the first event being held.
Retracing the route of the 1932 RAC Rally in a Hyundai i30 N
The resulting competition attracted 367 entries – still a record for a British motorsport event – who started from various points around the country. Each route covered around 1000 miles and ended in Torquay, where a series of tests were held. Lanchester driver Colonel A H Loughborough was determined the winner, and took home £25 and an Autocar trophy.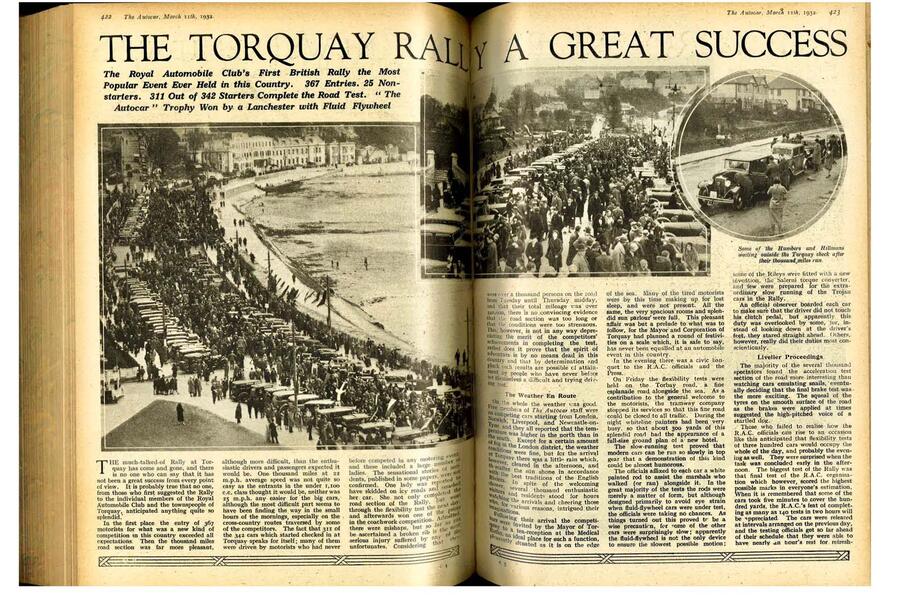 Following the event, Autocar magazine said: "There is no one who can say it has not been as great success from every point of view. It is a foregone conclusion that there will be a Rally next year." 
There have been 74 events since, with hiatuses imposed by World War Two, the Suez Crisis and an outbreak of Foot and Mouth disease.
The event has evolved dramatically, turning from an amateur contest into a showcase for rallying's biggest stars – although all the cars are road legal, and an amateur-level National Rally still runs alongside. 
Hugh Chambers, the boss of Wales Rally GB organiser Motorsport UK, said: "Autocar was very much a founding force in the creation of what today is one of the most revered fixtures on the FIA World Rally Championship calendar.
"Now we are delighted to be teaming up once again, this time to celebrate the 75th edition of the remarkable event the magazine helped to inspire all those years ago."
Autocar editor Mark Tisshaw said: "Right from the outset, the RAC Rally proved a massive success with both participants and spectators, and remains so today. Rallying, of course, has changed massively over the years. However, unlike most other forms of premier-league motor sport, it has always retained a close link to the cars the public can buy, and thus remains especially relevant to Autocar and its readership."
Read more
Goodwood Festival of Speed 2019: Best of the Rally stage​