The European-spec 2017 Honda Civic will make its world debut at the Paris motor show later this month, and the car maker has released a new teaser image (shown below) ahead of the reveal.
The image, shown as the third picture in our gallery, shows the rear light cluster of a European model. It suggests that Euro cars will look near enough identical to US-spec models.
Honda has now revealed the 2017 Civic in production guise. Click here to view it.
The US models were revealed in full last month as early customer cars departed Southampton for the US. They're shown in the gallery above.
All five-door Civics will be built at Honda UK's Swindon plant, which is the global production hub for the new model. It has received £200 million worth of investment to cater for the additional supply, with an anticipated 50% of future demand coming from Europe.
Swindon is also likely to produce a large number of the future Civic Tourer and Type R models, although the reveal of these versions is still some way off.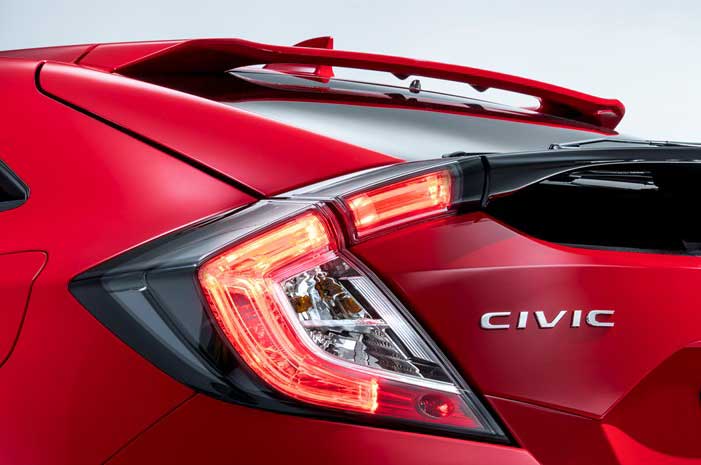 A four-door saloon version of the Civic was launched in the US late last year, but that model won't be offered in the UK.
US-spec five-door Civics will be sold exclusively with a turbocharged 1.5-litre four-cylinder petrol engine offering as much as 180bhp in its most potent form. The UK engine line-up is expected to be more comprehensive, with a 1.0-litre, 1.4-litre and the 1.5 all potential petrol-powered candidates.
Honda UK boss Philip Crossman has also hinted that a hybrid version will be offered. Speaking to Autocar earlier this year, he said: "We'll come back with a class-leading hybrid powertrain in the next five years, and it's likely to make as much impact as the VTEC valve system."
The range-topping Type R model is likely to be fitted with a turbocharged 2.0-litre engine like the current model, but power output will be ramped up beyond 306bhp.