Online retail giant Amazon has led a $700 million (£544m) round of investment in American electric car start-up Rivian.
The fledgling manufacturer has attracted big interest since its public debut at the 2018 Los Angeles motor show. Today's round, which includes investment from existing shareholders, brings the total raised by the company to around $1.15 billion (£894.5m).
According to sources speaking to Bloomberg, Rivian is currently in discussions with General Motors (GM) to secure further investment. If a deal is secured, it's understood that GM would be listed as minority shareholder and Rivian would be valued at between $1bn and $2bn (£778m and £1.56bn). It will remain an independent company.
Rivian is aiming to bring the first electric pick-up truck to market. It only announced itself to the world last year despite having been developing and producing electric platforms since 2009.
Rivian R1S SUV and R1T pick-up aim to shake up the 4x4 market
Rivian is hoping to have the kind of impact Tesla has made in shaking up the established automotive set and believes it has found a niche with the creation of go-anywhere electric vehicles.
The R1T pick-up and R1S seven-seat SUV, the first and second in a series of models eventually planned, are built on a bespoke electric 'skateboard' chassis that is modular and can be used on all different types and sizes of vehicles. The initial pair are closely related, the chief difference being a slightly shorter wheelbase in the R1S. The R1S is 5040mm long, making it Range Rover-sized, while the 5465mm-long R1T is marginally longer than the Mercedes-Benz X-Class.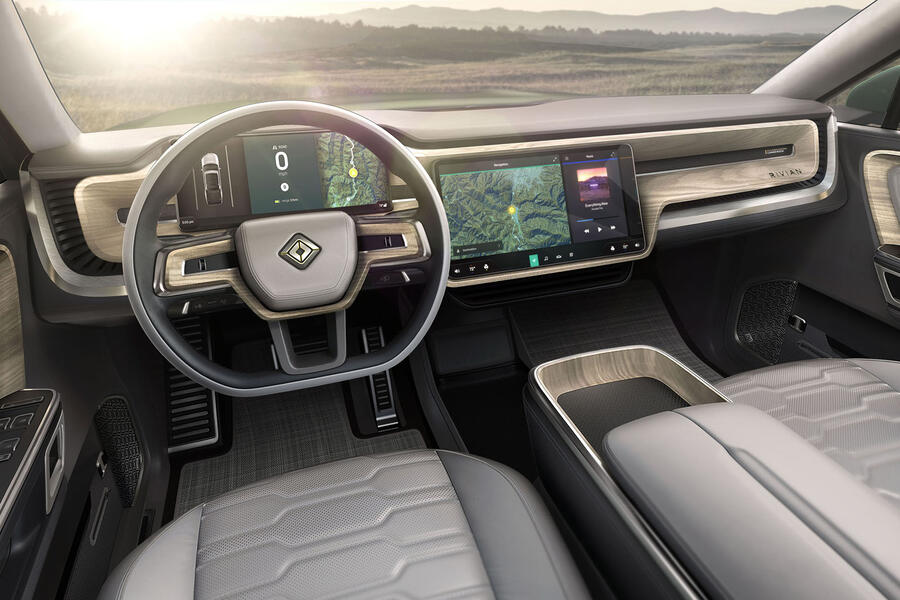 In both cars, the lithium ion battery pack is mounted in the floor. The R1T is good for a 230-mile range in its standard 105kWh capacity, a 300-mile range with a 135kWh battery pack, or up to 400 miles with a 180kWh 'mega-pack'. In the R1S, the same battery packs are offered with ranges of of 240, 310 and 420 miles respectively.
The two models share their drivetrains, too. Four electric motors, one for each wheel, give them four-wheel drive. Each motor produces 197bhp (total combined figures through the gearbox are 754bhp and 826lb ft in the 135kWh version), which allows for prodigious performance. It's claimed both vehicles can crack 0-60mph in just 3.0sec and 0-100mph in less than 7.0sec in the 135kWh versions.
Double wishbone front and multi-link rear suspension features, alongside air springs and adaptive dampers. Rivian claims the electric drivetrain and chassis set-up allows for both impressive on-road performance and handling and precise off-road control that surpasses any existing mechanical solutions. Its flat floor is also reinforced with carbonfibre and Kevlar to protect the battery pack, while both models get five-star crash test safety ratings in the US.