The 2017 Suzuki Swift has been revealed at Geneva motor show, ahead of the full debut including specifications later today.
The car was unveiled in Japanese specification late last year.
2017 Suzuki Swift launched – new Fiesta rival gets hybrid option
The Japanese specification confirmed that the engine line-up includes a 1.0-litre Boosterjet turbo petrol engine and a 1.2-litre Dualjet mild hybrid petrol. The former claims 56.4mpg and produces 99bhp at 5500rpm, with a maximum of 110lb ft torque, while the hybrid manages 77.4mpg, 88bhp and 87lb ft. The new Swift will be available in both manual and automatic forms, and be offered with two- and four-wheel drive.
Both engines are already offered in the Baleno, so it's very likely the engine range will remain unchanged on the UK-spec car.
At 3840mm long, the 2017 Swift is 10mm shorter than the outgoing model, although this could change slightly with the European version. The new car is exactly the same height as the current Swift, and has a wheelbase of 2450mm – 20mm longer than the current car. A width of 1695mm is retained.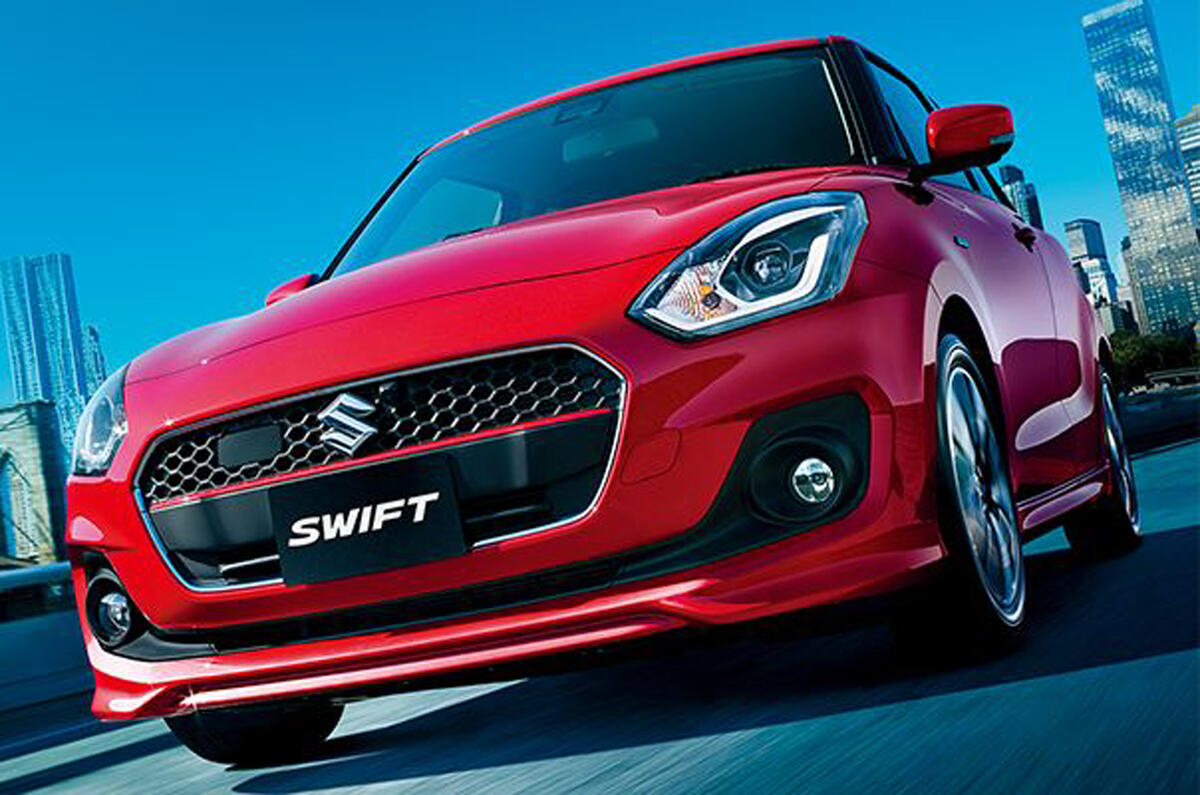 The Japanese version of the new Swift has 60/40 split-folding rear seats, with a boot capacity of 265 litres with the rear seats in place, and 579 litres with the seats folded down.
Suzuki claims the 2017 Swift weighs 910kg in two-wheel drive form and 970kg in four-wheel drive (likely to be called Allgrip) form. This is a considerable reduction compared with the outgoing model, although the UK version is expected to be slighty heavier than the Japanese car.
Whereas the current Swift is available in both three- and five-door forms, the new 2017 model will be five-door only. It will, however, have the sleeker appearance of a three-door thanks to rear door handle concealed in the black C-pillar.