BAC has revealed a lighter, much faster new-look version of its single-seat BAC Mono supercar, which adopts turbo power for the first time as a way of meeting forthcoming emissions regulations and maintaining compliance in its 40 export markets across the world. Priced at £165,950, the car is being launched this week.
It is powered by a Mountune-developed, 2.3-litre Ford four-cylinder engine developing 330bhp, a boost of 25bhp over the outgoing car's normally aspirated version of the same unit. However the Mono's horsepower boost is dwarfed by a torque increase of nearly 30%: the new turbo engine's output rises from 229lb ft to "over" 295lb ft lb. Company bosses Neil and Ian Briggs estimate that their new car should be around four seconds a lap faster than the original on the Silverstone grand prix circuit. Official 0-60mph time is 2.7seconds, with a top speed of 170mph.
The new Mono weighs just 570kg at the kerb, uses a new iteration of BAC's traditional steel space frame chassis, and is clad with graphene enhanced carbon fibre panels that allow material to be thinner (and thus lighter) for the same strength. The styling closely follows the new look of the special edition Mono R — less that car's controversial F3-style ram-air intake behind the driver's which isn't needed because of the engine's new forced induction system — with every panel redesigned to reduce visual mass, lower overall height and reduce frontal area, to improve aero performance.
The car is 20mm lower, and 25mm longer, has more optimal weight distribution (due to a lowered fuel tank and a centralised battery) and incorporates a plethora of tiny weight saving measures so that despite the extra weight of its turbo engine, it weighs 10kg less overall.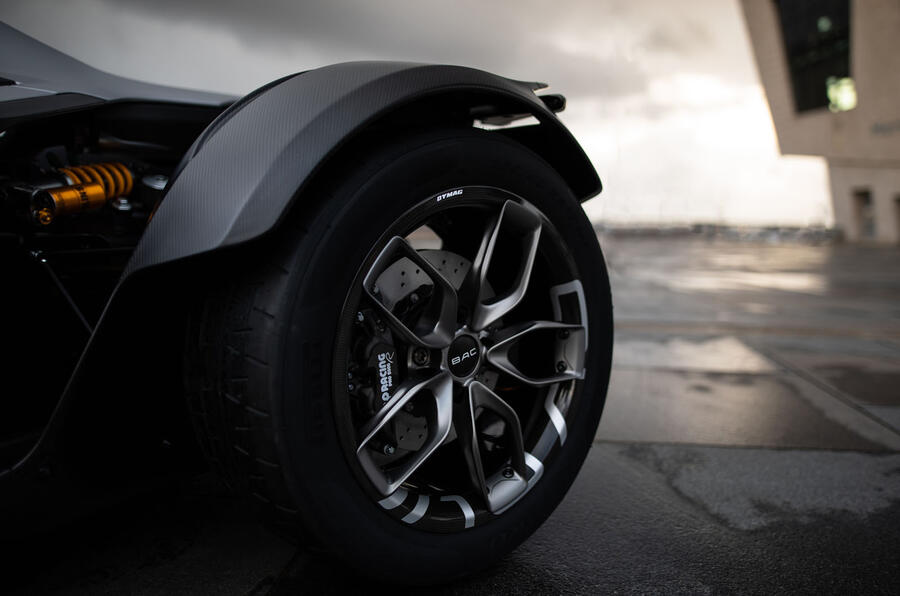 The all-independent wishbone suspension has been extensively redesigned to reduce pitch under brakes and squat under acceleration. It also incorporates Ohlins two-way adjustable dampers, lightweight AP brake calipers and specially homologated Pirelli Trofeo R tyres, now standard on all Monos. The result, says BAC, is sharper turn-in, better rotation at the apex of a corner, and better traction at the exit.