The new Alpina B5 Biturbo, which is powered by a 600bhp twin-turbocharged petrol V8, is priced from £89,000 in the UK.
First deliveries of the B5 Biturbo will take place in March, with the saloon priced from £89,000 and the Touring estate from £91,000. Single-digit numbers are expected, but there's no limit on production. A larger number of the more frugal D5 diesel is expected.
Both saloon and Touring versions of the hot petrol 5 Series variant use BMW's 4.4-litre unit, which outputs 590lb ft of torque. The B5 Biturbo accelerates from 0-62mph in 3.4sec and tops out at 204mph.
That performance ranks it slightly above the new BMW M5, which produces 592bhp, accelerates from 0-62mph in 4.2sec and has a top speed of 190mph.
BMW won't be producing an M5 Touring, so the B5 Touring will be the hottest estate on offer in the 5 Series range. It has been given upgraded twin-scroll turbochargers nestled between the cylinder banks, as well as upgraded airflow, intercoolers and brakes.
Rear-wheel steering is used, allowing the car to turn the rear wheels up to an angle of 2.5deg, and a mechanical limited-slip differential is a £2500 option.
The standard B5 Biturbo saloon achieves 26.9mpg and emits 240g/km CO2, while the B5 Touring returns 26.2mpg and 247g/km.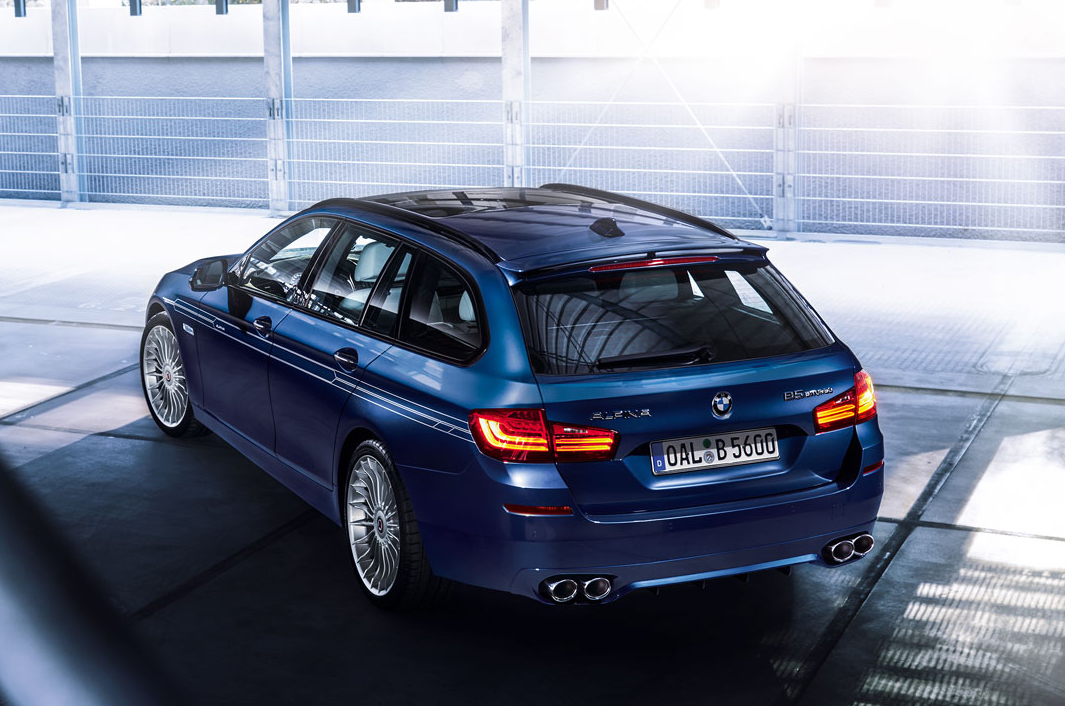 Both the B5 and D5 have Alpina's own exterior styling and familiar multi-spoke wheels. Performance-honed suspension and gearbox settings will also give the two hot Touring models sharper responses than BMW's regular estates.
UK pricing is yet to be confirmed for the D5, but a figure of around £60,000 is expected.