Future Audi SUVs will resemble this AI:Trail concept, says Audi design boss Marc Lichte, predicting such a car could arrive as soon as 2030.
The wacky, off-road concept, unveiled at the Frankfurt motor show, is the fourth and final AI concept. The four concepts, the AI Trail, AI Race, Aicon and AI:Me show Audi's vision for shared motoring, with subscribers able to choose the car that best suits them at any given moment.
"In future, we will change from owning [a car] to accessing a car," said Lichte. "If you can order your car for a specific use, this will change the design of our cars. You can design with no compromises. The AI:Trail is how we imagine a future Audi SUV could look."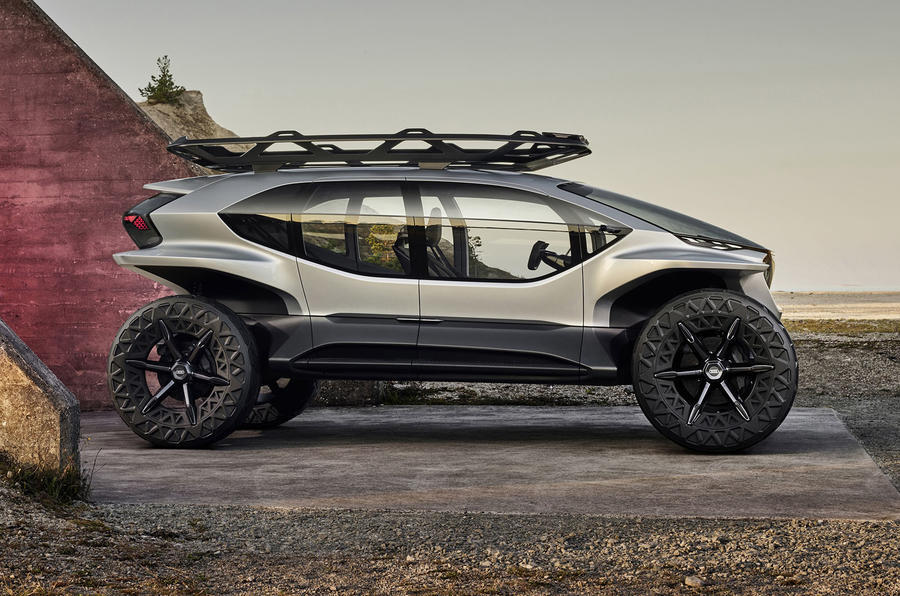 The electric, four-wheel-drive concept is a similar length to a Audi Q3 at 4m15 but with a longer wheelbase, while its 2m15 width is on a par with a Audi Q7.
It uses four electric motors, each sitting near a wheel, and collectively producing 429bhp and 738b ft. It has a top speed of 81mph and a range of 249 miles on-road and 155 miles off-road.
The AI:Trail does not sit on any existing platform, but takes certain elements. For example, the underfloor battery is taken from the Volkswagen Group's MEB platform and the powertrain is from the PPE architecture, shared between Audi and Porsche.
The radical design includes a belt line which is the same height as the arm rest, rather than at shoulder height. "This is a first for Audi," explained Lichte. "Normally, we have a small greenhouse, high belt line, massive body. We did exactly the opposite. It's almost a 360deg view while driving."