Audi Sport has launched a new lightweight version of the R8 V10 that swaps the quattro four-wheel drive system of the standard model for a new rear-wheel-drive set-up mirroring that of the company's R8 LMS race car.
Unveiled on the eve of the Frankfurt motor show, the new R8 V10 RWS (denoting rear-wheel standard drive) is planned to be produced in a limited run of 999 examples in both coupé and open-top Spyder bodystyles. The UK order book for the new model is planned to open during the fourth-quarter of 2017, with deliveries due to get unde rway early next year.
"The R8 V10 RWS is made for purists - a limited edition model for customers with an appreciation for essential driving enjoyment," said Audi Sport boss Stephen Winkelmann. "With a V10 engine and rear-wheel drive, it brings the driving concept of our R8 LMS racing car to the street."
Power for the R8 V10 RWS comes from the same mid-rear-mounted, naturally aspirated 5.2-litre V10 petrol engine used by the R8 V10 quattro. It produces 532bhp at 6800rpm and 398lb ft at 6500rpm.
The deletion of the propshaft and drive system within the front axle saves 50kg, endowing the coupé version of the new Audi Sport model with a kerb weight of 1590kg and a corresponding power-to-weight ratio of 335bhp per tonne.
By comparison, the 1640kg R8 V10 quattro coupé boasts 324bhp per tonne.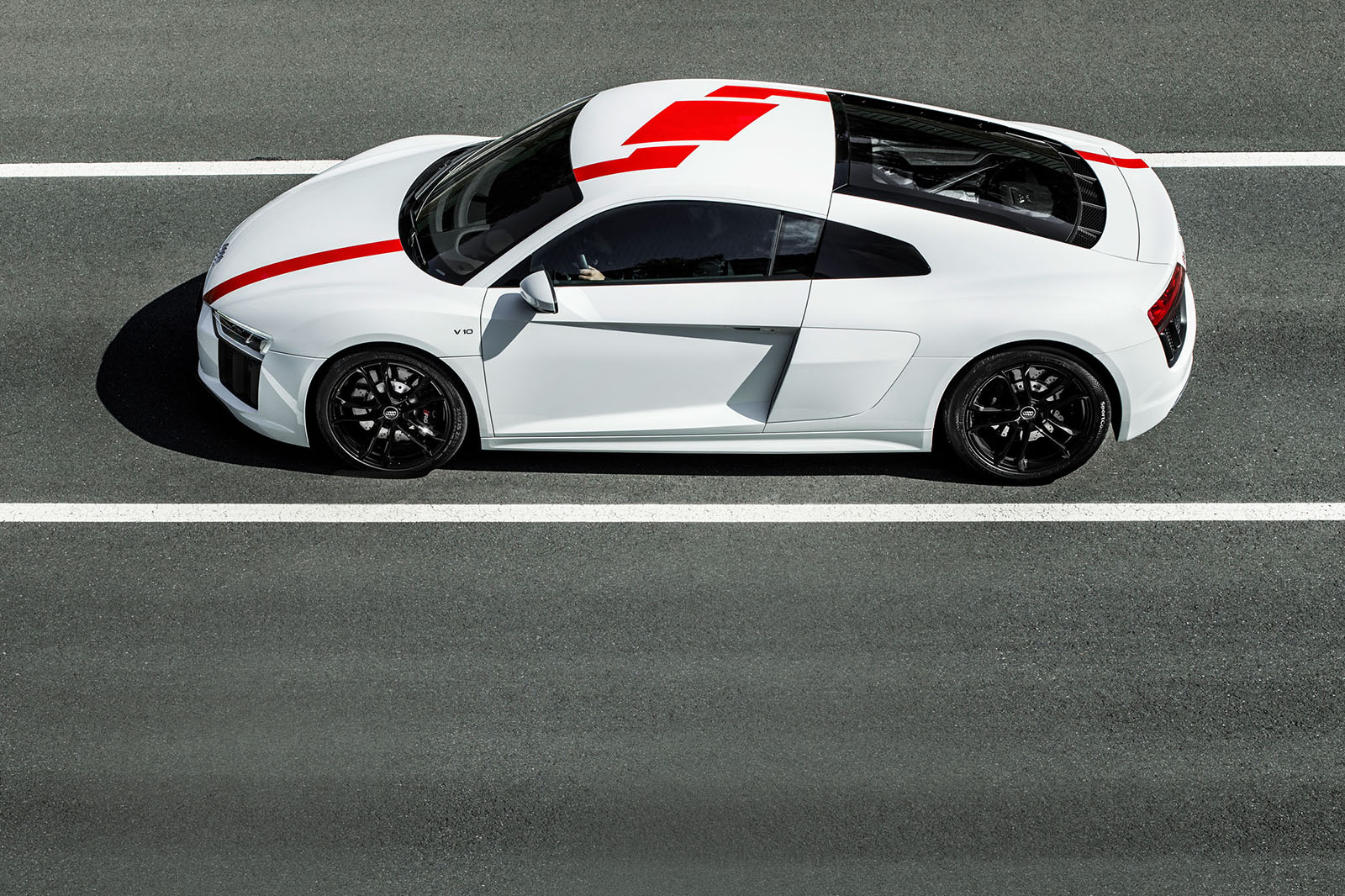 Despite the reduction in weight and a superior power-to-weight ratio, the rear-wheel-drive R8 V10 RWS can't match its four-wheel-drive sibling for outright acceleration. Its claimed 0-62mph time of 3.6sec is 0.2sec off that of the R8 V10 quattro in coupé guise, but at a claimed 199mph, the new model matches the existing R8 for top speed.
A series of subtle styling tweaks help to set the R8 V10 RWS apart from the R8 V10 quattro, includeing a matt black grille insert and air vents up front. The upper section of the car's so-called sideblade is also finished in gloss black, with the lower section in body colour – a treatment similar to that seen on the R8 LMS GT4. Buyers can also specify a visual package consisting of red stripes across the bonnet, roof and rear in the coupé.