Volkswagen has outlined plans for a network of portable, independently powered charging points for electric vehicles, set to be trialled in Germany next year.
The firm has revealed details of a new mobile charging station with the capacity to charge up to 15 EVs when operating separately from mains electricity systems. In this mode, the company says, it will take 17 minutes on average to charge an EV up to roughly 28kWh, which is around 80% of the capacity of the current e-Golf hatchback.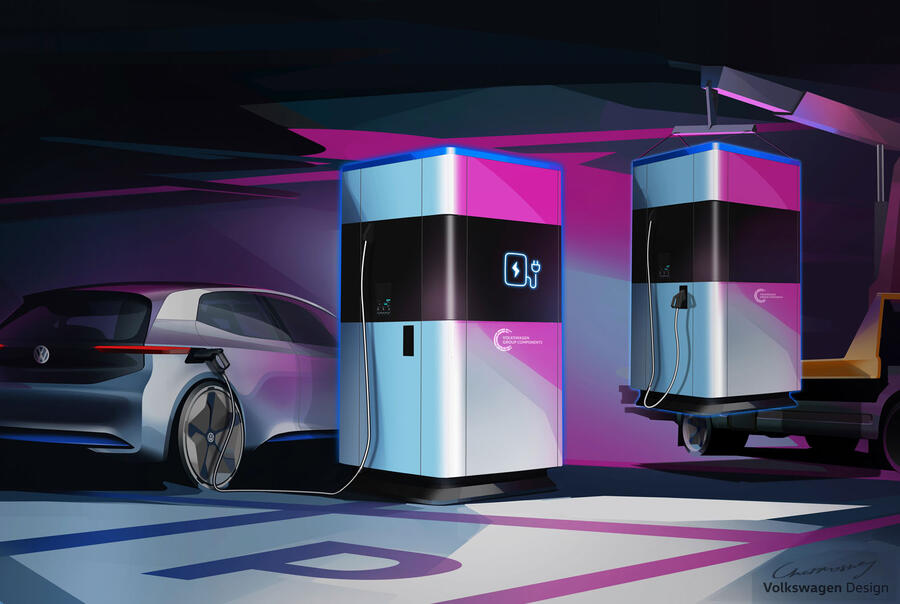 The charging station's 360kWh battery unit is based on that found in VW's MEB electric vehicle platform, meaning depleted batteries removed from the company's upcoming ID electric models can be reconditioned and repurposed as a power supply for a range of EVs, including electric bikes. 
Up to 15 EVs can be charged on one cycle of the unit's power pack, with a combination of AC and DC outlets allowing four vehicles to use it at any one time. 
When connected to a permanent standard grid connection, the charging station's power unit will recharge itself constantly via an alternating current that mitigates the strain on the power supply during peak periods. 
VW will introduce the charging stations to the streets of its home city, Wolfsburg, as part of a trial that is set to begin in the first half of this year. The firm says the technology will become available in other towns and cities from 2020.