Can the Porsche 718 Cayman S, with a sublime chassis but two fewer cylinders, cut it against the six-cylinder BMW M2 and Jaguar F-Type?
Oh, for heaven's sake. This was supposed to be a foregone conclusion. Porsche 718 Cayman S arrives, there's barely any competition, wins. Ta-da. Best sports car in the world beats other not-best-sportscars-of-the-world. The end.
But no. I've just driven it and two alternatives around bits of MIRA proving ground, around a drifty corner, down the Fosse Way where the surface is rubbish, around some road corners where the surface is all right, and on some dual carriageways and motorways to the New Forest. And actually, it's not a very clear-cut decision at all. So I'm sorry, but we're just going to have to get on with it.
To the Porsche, then. Ah, the Porsche. It's the new car, hence the test, and it's here in £48,834 2.5-litre S guise, one of two Cayman forms at the moment. The S is the more powerful one. Its 2.5-litre engine has only four cylinders – you might have heard – instead of the six it used to have, although it makes a lot more power than the previous 3.4-litre engine used to while, on paper, emitting and consuming less. But in practice, I doubt that there's a lot in it.
It has 345bhp instead of 320bhp, which is good, apparently, but it also now has a turbocharger and two fewer cylinders, which is bad, definitely – from an aural and response perspective, any rate. But we'll come to that.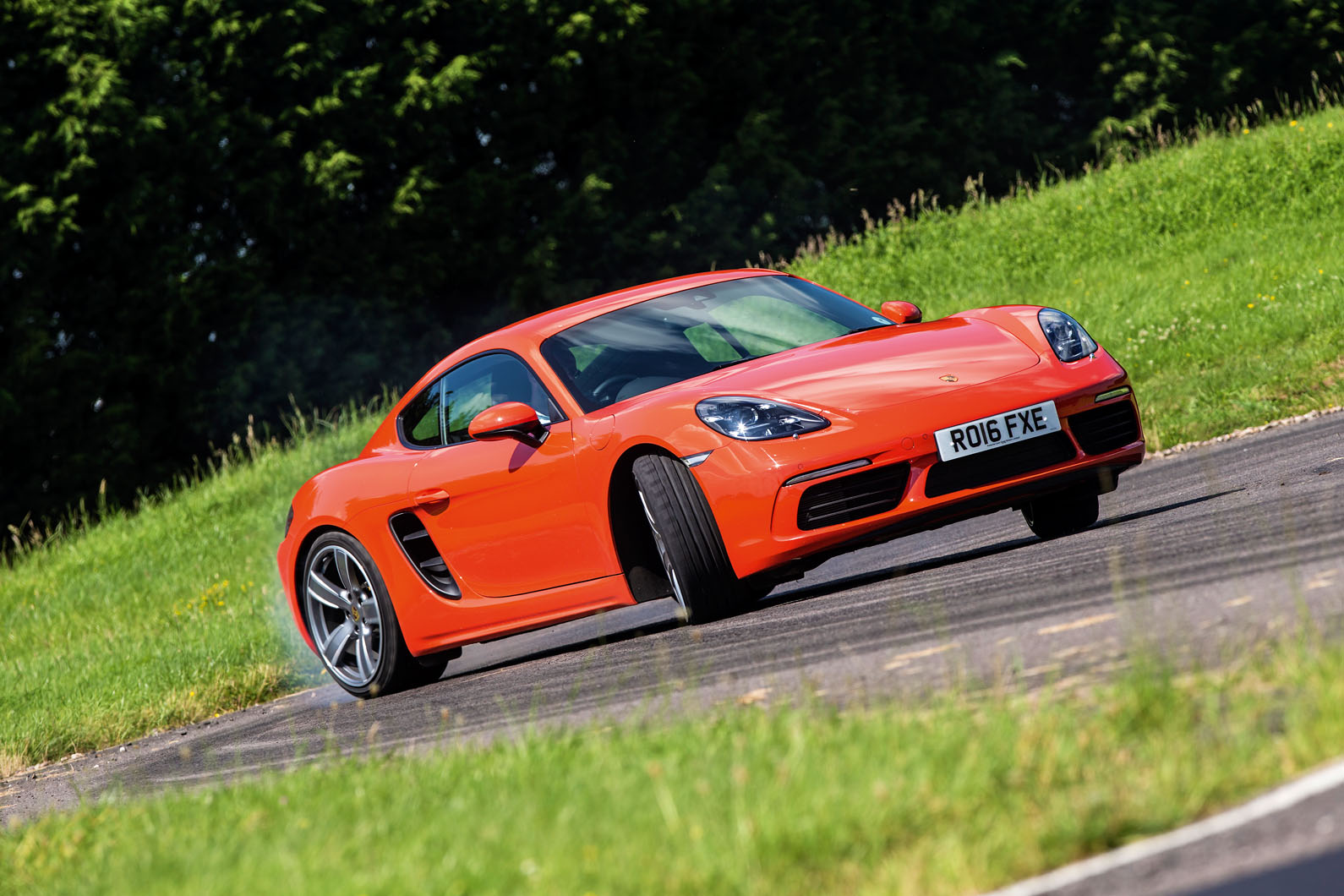 It's a two-seat, mid-engined coupé still, and the construction is much the same, but every panel apart from a couple of bits around the roof were renewed in the transition from Cayman S to 718 Cayman S. The front suspension is adapted from the 911 Turbo, the rear suspension has bits of previous-generation Cayman GT4, the steering is 10% faster than the old Cayman's was and the geometry, springing and damping are all new for the seven-eighteen.
Inside, there aren't vast differences between Caymans old and new. You sit relatively low, but with reasonable visibility that now includes, pleasingly, a view of the tops of each wing, which I don't remember having before. It's quite reminiscent of 911s of old – a cute touch.
Interior materials are well chosen, but it's largely a business-like cabin. Porsche hasn't gone out of its way to wow you with soft surfaces or embellishments here. It's just a solidly constructed, effective cabin, with switches where you'd hope they'd be and a new infotainment system that's still in danger – as is the gearlever – from latte overspill, given that the right-hand cupholder overhangs the centre console. Hashtag first world problems, etc.
To the £53,565 Jaguar F-Type, then, because frankly its interior tries to do the opposite of the Porsche's. It sets out to wow and excite. It feels shrink-wrapped around you, which is partly because the chassis's aluminium construction eats into interior space regardless of the fact that this a long, wide car. It's snug, head room is less generous than in the other pair and even leg room can be at a premium if you're over 6ft tall.