Even from the cabin of the BMW, handsome Estoril Blue, the attention slathered on the leader of our small convoy isn't difficult to see.
It could be that car's own rich hue, which is suspiciously similar to Alfa's Competizione Red, or the strangely discreet quad exhausts, or the fact that its prominent haunches flow rearwards to meet a tapering fastback and form an eye-pleasing Kamm-tail of sorts. All warrant a closer look. Or those enjoying the delights of the M4 westbound on this overcast weekday morn could simply be leaning over to make sure they've read the badge on the boot-lid correctly. So we're all on the same page, it says 'Kia'.
By now you'll be aware of the Stinger, seen here in top-spec, establishment-bating, eyebrow-raising GT-S trim. You may have also heard that it's better than expected, with plenty of go and a chassis that's, not to beat around the bush, rather lively. But good enough to be regarded as a proper driver's car, one that might be considered an alternative to the likes of BMW's 440i M Sport and the Jaguar XE S? Surely not.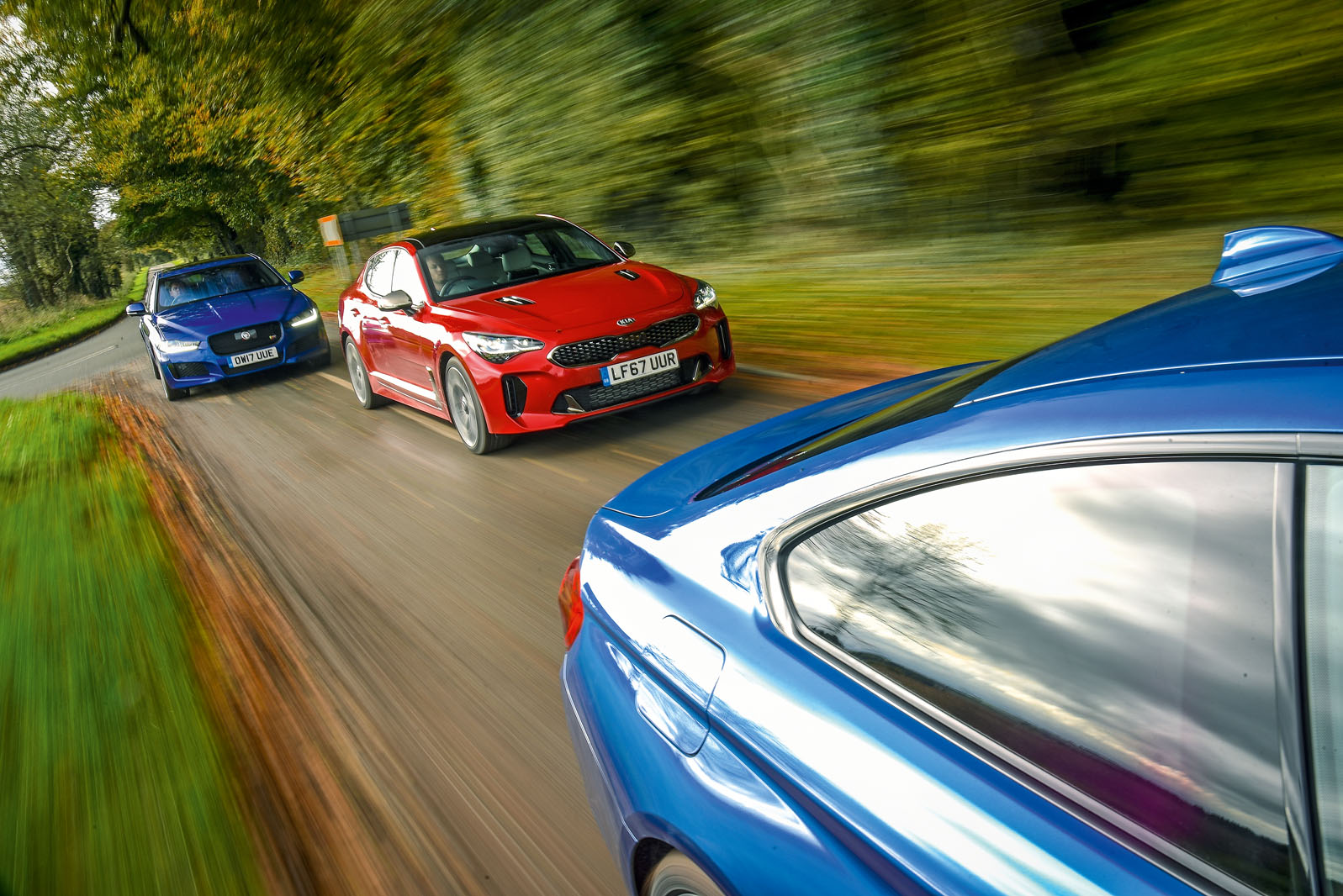 It pays to be open-minded, though, and a short while later the Stinger's respectably heavy key fob is in hand. Climb aboard and it isn't the elegant expanse of its interior that surprises most. Neither is it the high, wide transmission tunnel, with its Audi-style gearlever, nor the porthole-style air vents (Mercedes) or the dash-top infotainment system (BMW). It's actually the driving position, which sinks deep enough for your eye-line to skim the top of the wraparound dash. Plenty of adjustability in the steering column then allows you to set the firmly padded steering wheel, with its satisfying narrow girth, close to your chest, in turn extending an invitation for your legs to stretch out and greet the pedals.
All this comes as revelation because the relationship between a car's principal controls is an ergonomic maze in which experienced marques still get lost from time to time. That Kia has more or less nailed it straight off the bat bodes very well indeed.