Bloodhound, the British 1000mph jet and rocket-powered land speed record challenger, is planning to convert at least one of its most important functions to electric power – if a suitable technical partner can be found.
The project's technical director, Mark Chapman, announced a plan to use a 600bhp electric motor to power Bloodhound's all-important fuel pump, whose job is to deliver one tonne of peroxide catalyst to Bloodhound's Nammo rocket motors in the 18 seconds it takes for a 1000mph record run. At present, the car has a supercharged Jaguar V8 to pump fuel, but Chapman believes electric power would provide much greater packaging flexibility.
One possible partner could be Chinese car company Geely, an existing Bloodhound sponsor, which owns the Swedish Volvo brand and recently announced a 600bhp electrified powertrain for its Polestar performance offshoot. Talks are proceeding, said Chapman.
Q&A with Bloodhound drive and land speed record holder Andy Green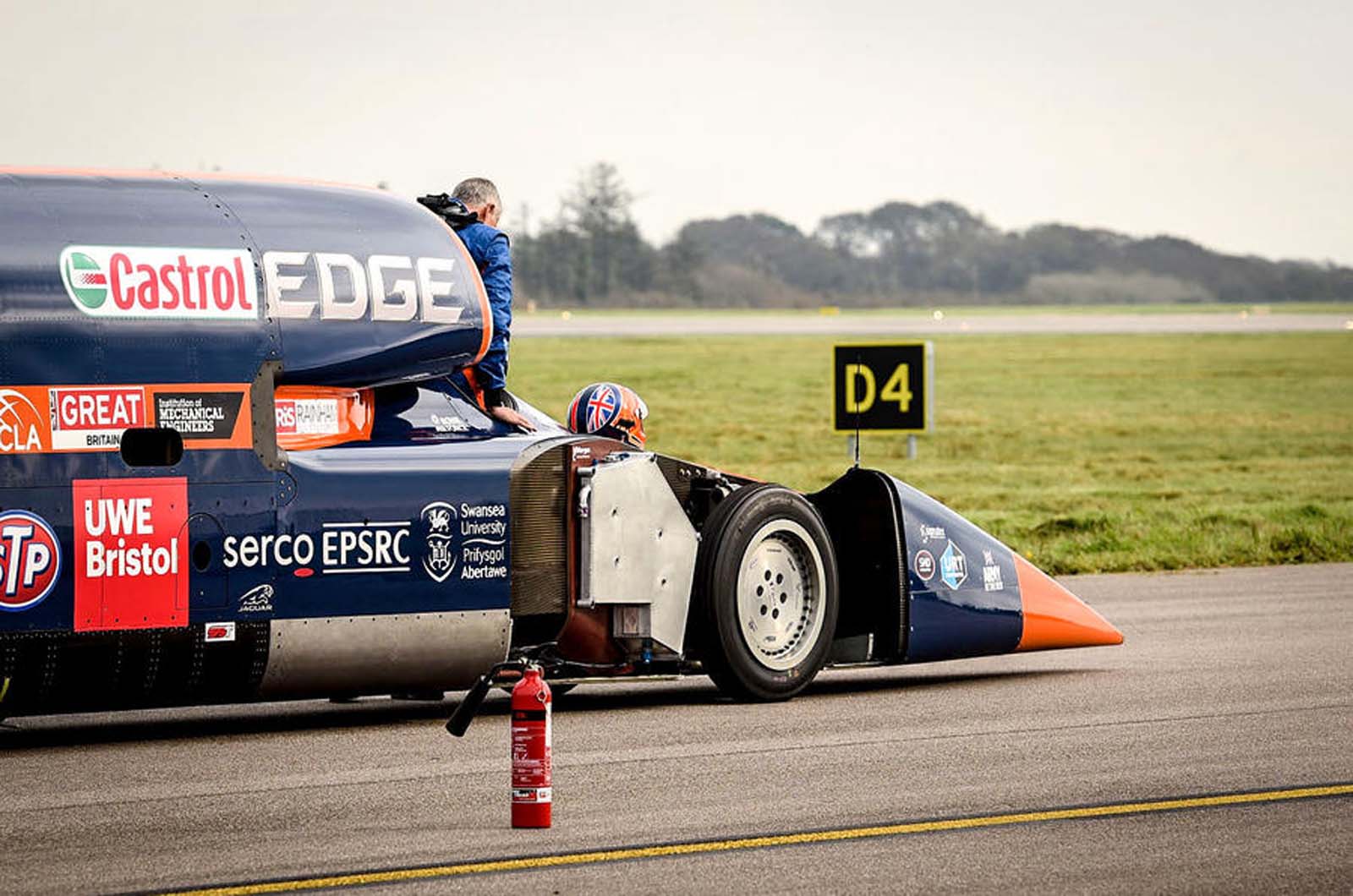 In late October, Bloodhound cleared the first of many performance hurdles by completing 200mph test runs on the 1.2-mile runway at Cornwall Airport, Newquay.
The first day's shakedown, conducted on the ninth anniversary of the project's inauguration, consisted of two noisy and spectacular runs at 202mph and 210mph in full view of sponsors, supporters and press. At the wheel was Wing Commander Andy Green, already the world's fastest man, having set the world's first and only supersonic record of 763.035mph on the Black Rock desert, Nevada, in Bloodhound's predecessor, Thrust SSC, 20 years ago.
The Bloodhound project's director, Richard Noble, himself a former land speed record holder, gave further details of Bloodhound's record-breaking timetable as it moves towards 1000mph, a speed he describes as "the limit of current technical capability". The car will run "very fast" next year, probably to about 650mph on jet power alone, then will attempt to better Green's existing record in 2019, and, if successful, will bid for the full 1000mph in 2020.