The land speed record has long been a goal for British engineers and daredevils alike. There are few - if any - better cars to take a look back at it with than the Jaguar F-Type SVR.
Imagine that most people who read this have done 126mph in a car, maybe driving, maybe as a passenger, maybe legally, maybe not. If you have, you'll know it's not that big a deal. If you're on a long, straight autobahn or on a race track and your car is one with a top speed beyond 150mph, 126mph can be an entirely unremarkable, uninteresting speed.
But it wasn't to Victor Hémery, the first of many heroes about to appear on these pages. Hémery was the first man to drive a car at 126mph anywhere in the world and he chose to do it right here in Britain in 1909 at the recently opened Brooklands race track. His weapon was a brand-new 200hp Benz boasting not only a 21.5-litre engine under its enormous bonnet but also a name that would pass into motoring folklore.
Read our full Jaguar F-Type SVR review here
This was the 'Blitzen Benz', the lightning Benz. This chain-driven leviathan had brakes on its rear wheels only, and with a mere four cylinders, each piston swept a larger area than that displaced by an entire 10-cylinder Lamborghini Huracán engine. To Hémery, as he thundered around the notoriously bumpy banking, fighting to retain control of his man-made monster, 126mph would have been a very big deal indeed.
But it was worth fighting for, because it made him the first person to claim the land speed record on British soil.
In 1909, 126mph was not just the fastest a car had ever gone: it was the fastest anything had ever gone, be it plane, train or automobile. At the time, there were still people who believed it would be impossible to survive such speeds because you'd simply not to be able to breathe.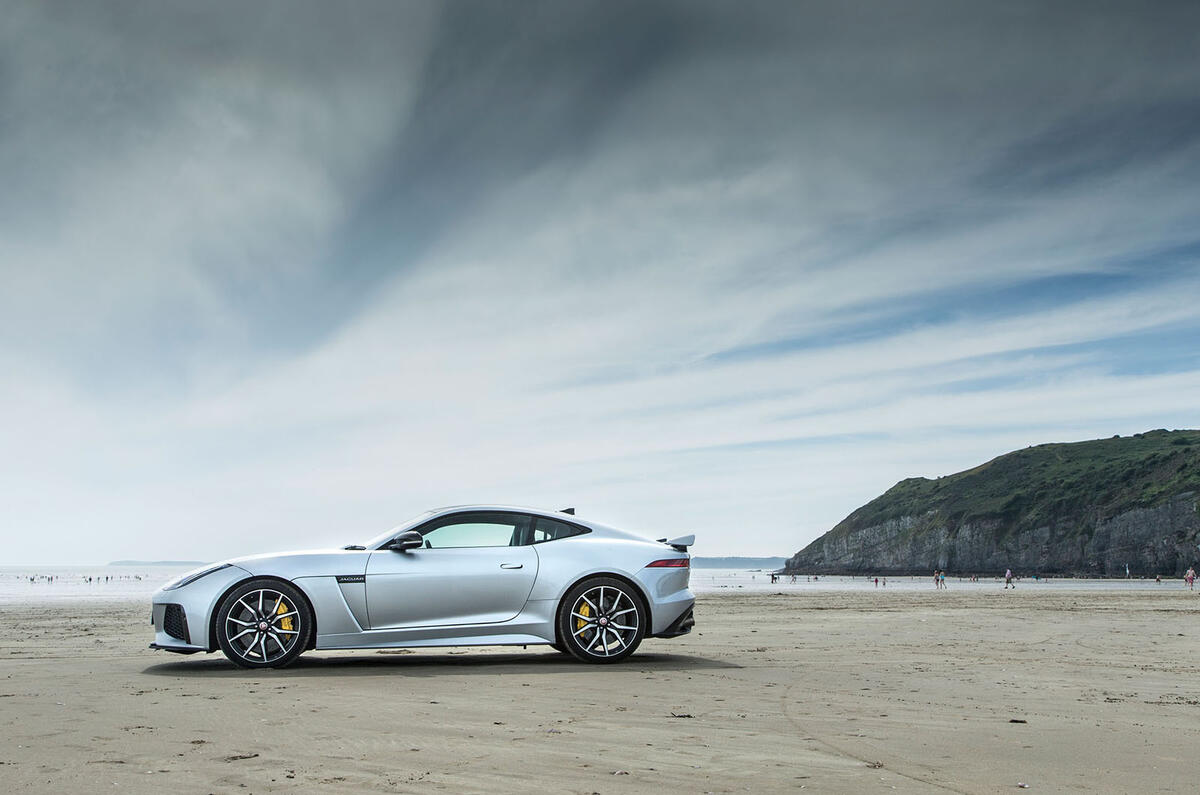 Go to Brooklands today in something like this Jaguar F-Type SVR, gaze up at the remains of the banking around which Hémery would have wrestled the Benz and it seems strange that anyone could ever have deemed this a suitable venue for such a feat. Although the full circuit disappeared a lifetime ago, it's easy to imagine lapping its long straights and two banked curves, easier still to realise that even in a car as smooth and swift as the SVR, a 126mph lap would be something to remember.
Our list of the fastest cars on sale is here
And yet they kept coming back. LG Hornsted did 124mph here in 1914, a record, being the first to be validated under new rules demanding that a record be the average speed of two runs in opposite directions. And in 1922, Kenhelm Lee Guinness of KLG spark plug fame took a brand-new Sunbeam equipped with an 18.3-litre V12 engine and averaged 136mph over a half mile in each direction.