We've all read about downforce, but photographer Max Edleston and I are now experiencing the phenomenon.
It becomes noticeable at 180mph, when our Lamborghini's gobsmacking Rosso Bia body begins to squeeze high-frequency suspension vibrations into submission, smoothing the flow. At 195mph, the force exerted on the front apron means effort is required to make tentative steering corrections. At 210mph, 10 screeching cylinders are all but drowned out by torrential oncoming air, which isn't surprising because the Huracán Performante is now making almost eight times the downforce of a basic Huracán.
Less than 1400kg of aluminium, plastic, 'forged' carbon-composite, Alcantara and ego has bolted itself to the road with a resolve that messes with your head. Only a moment ago, this thing seemed one of the most agile, flickable supercars out there. Now it's an anvil on wheels. Far from feeling loose or frightening, by the time we nudge the wall (not for want of power but of a taller seventh gear), our Performante is travelling with trance-like calm amid a maelstrom of physics. According to the dials, the wall sits at a faintly absurd and totally exhilarating 216mph.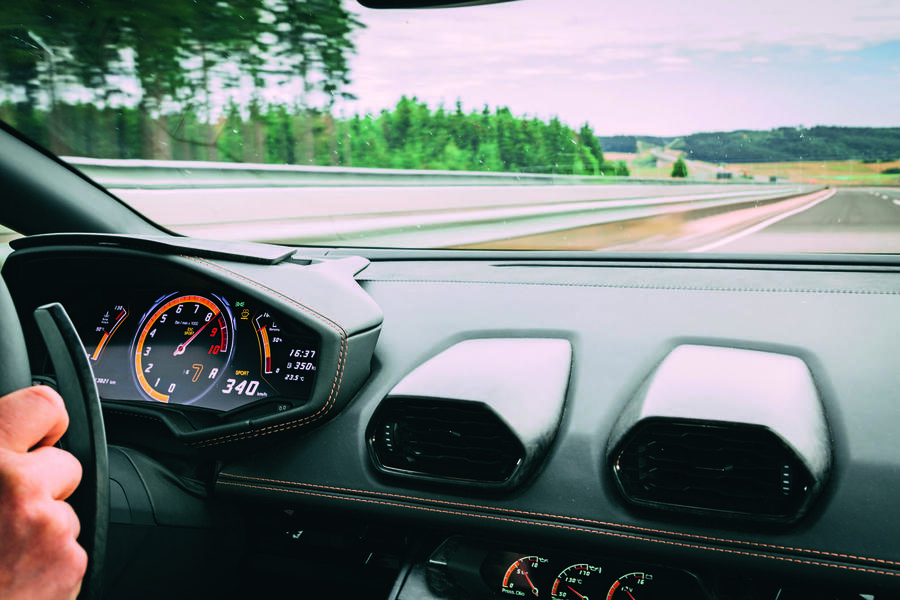 Lift off, coast for a moment, tickle the other pedal… and breathe. Much as the sustained discharge of 631bhp leaves you speechless, it's not the only reason we're on an autobahn. Lamborghini needed this car chaperoned back home to Sant'Agata Bolognese from the Goodwood Festival of Speed and, when asked to go long and hard in arguably the greatest driver's Lambo to date, the only answer is 'sì'. On arrival, we'll visit the factory to assess how much of an upheaval the company's entry into the world of SUVs has created, but for now it's all about having one last blast with what, in the future, we'll undoubtedly refer to as a proper Lamborghini.
It's an enviable trip, but also one that raises some interesting questions. For one, how polished is too polished? Modern engineering means even trackday specials like the £215,000 Performante could, by the coating of their titanium con-rods, now have the breadth for grand touring. The ridiculous (deliberate?) absence of a solitary cupholder, doorbin or even a glovebox suggests otherwise, but so far the car's ride quality has been exemplary given its role as a Nürburgring blade. To our surprise, the leather buckets – stitched with proud, vivid tricolore stripes to match the ones exploding along the outer sills – are also decently comfy. Close the exhaust valves that transformed our Eurotunnel carriage into the longest, wildest didgeridoo in existence and the car has manners, too.