If anything encapsulates the madness of Ruf Automobile GmbH, it's a Porsche 550 Spyder hovering six feet above the red-tiled workshop floor. The rear portion of its tiny fibreglass shell has been stripped away to show the tubular chassis, but where you'd expect to find a 1498cc flat four with double overhead cams, there's only fresh air.
This being Ruf, all is not what it seems. The disc brakes and coilover suspension aren't period, so I'm prepared when engineer Rafael Riethmüller tells me one of the company's 4.1-litre flat-six Mezger engines is waiting to be installed. There follows a moment of silence, broken by an expletive. More than 400bhp in a car weighing 550kg with a chassis designed from the early 1950s isn't so much eccentric as psychotic. But Ruf will do that for you, if you want.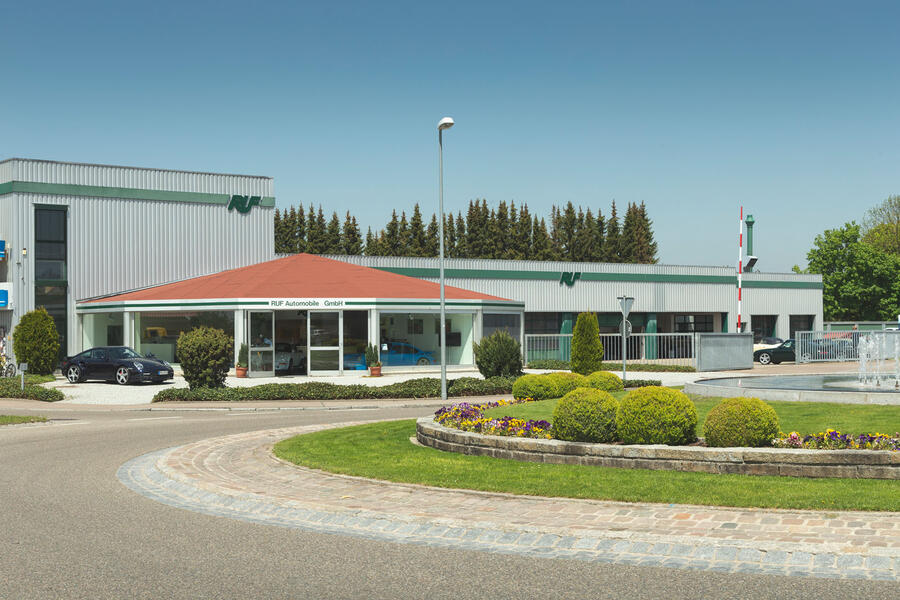 "It will be a real challenge to drive," says Riethmüller, helpfully. And on we go: to a military-green 964 911 Carrera whose conversion to Ruf specification is almost complete after three months' work and between €200,000 (£170,000) and €300,000 (£260,000) spent. It's so expensive because Ruf starts from ground zero, restoring the car while recrafting it in its own image. There's now an integrated roll-cage hidden behind soft leather that matches the exterior hue. All air-cooled Rufs also get upgraded Bilstein suspension and the 3.6-litre engine in this one has undergone a turbo conversion and now has an entirely new top end. It's unlikely many modern sports cars would keep up with this thing on the open road, and yet it still looks, feels and will sound very much like a machine of its time.
Elsewhere lurks an RT12R: Ruf's 800bhp take on a modern-day 911 GT2, said to lap the Nürburgring in under seven minutes. It belongs to founder Alois Ruf's son (also named Alois, and current president), as does the verdant green 356 Coupe outside the paint shop. This sensational piece of history benefits from 911 axles and a flat four tuned to 180bhp, because nothing here is ordinary. As if to underline that fact, Stefan Roser – the CTR powersliding hero of Faszination On The Nürburgring – has just appeared from the glass-fronted reception area.