Leaping years ahead, sometimes even decades, is what Citroën is most famous for. It has made cars that levitated. Cars whose headlights peered around corners. Cars with suspension resembling frogs' legs, their wheels able to cross terrain usually the habitat of tractors. Citroën has made cars inspiring learned philosophical prose, cars transporting cinematic love stories, cars to traverse remote parts of the planet and cars whose ingenious inner plumbing helped save a French president from assassination.
Citroën is still innovating today, if not at the rate that it did during its first 50 years of life, and it may be about to innovate more boldly again, if its latest Ami One urban car and centenary-celebrating 19_19 concepts are genuine in their ambition. But that's in the future. Right now, we're driving Citroën's new C5 Aircross to Paris, birthplace of the company and location for various centenary celebrations, among them a 100-car display of Citroëns on the site of the original factory at Quai de Javel. The C5 Aircross doesn't present the extreme styling of some of these cars and trucks, but its make-up certainly mirrors the emphasis on practicality and comfort that has distinguished some of the marque's most famous models, from the 1934 Traction Avant to the 2CV and today's C4 Cactus.
The C5's novelties include Citroën's Progressive Hydraulic Cushion suspension, an ingenious rethink of the traditional bump-stop that allows the car to ride on softer springs and dampers without listing like a holed ship. The suspension is intended to complement comfort seats whose 15mm of extra foam topper aims to further soothe, a feature that's standard on the C5's top two Flair and Flair+ trims. Our car is the latter version, pulled by a 180bhp 2.0-litre diesel via an eight-speed automatic.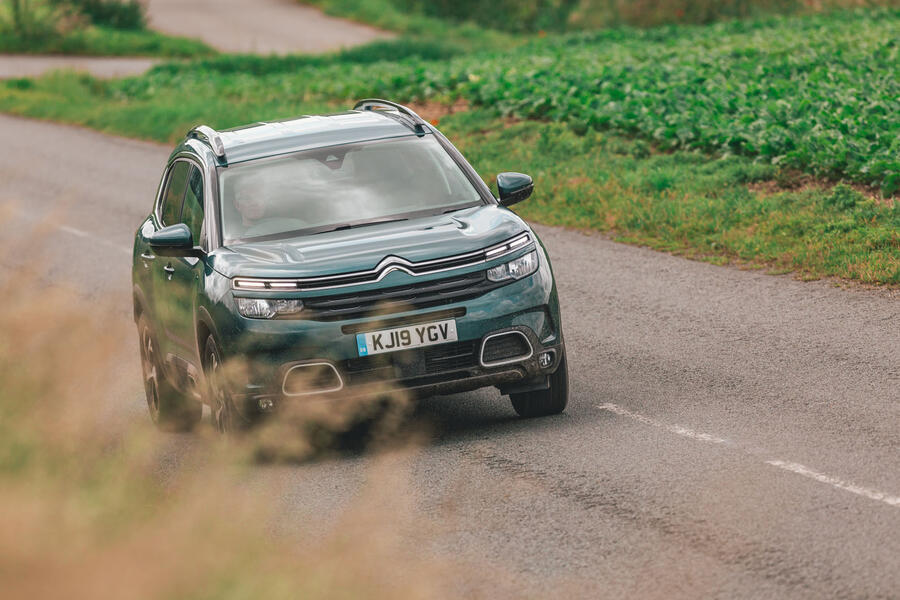 The practical end of the equation is provided by an almost totally flat floor – rare, despite the domination of propshaft-free front-wheel drive these days – and a back bench whose centre seat is as big as those flanking it, another rarity. They're hardly the reinvention of the motorcar, these features, but they're evidence of Citroën's rekindled quest to design exceptionally comfortable cars that are down-to-earth useful.