The view forwards is pure Fangio. A single pane of laminated glass set in an aluminium frame through which I can see a narrow bonnet and exposed wire wheels. My hands are on a wood-framed steering wheel with four alloy spokes and a stubby gearlever is to the right of my leg. White-faced instruments sit in an aluminium panel. It's very simple.
Although I'm in a single-seater, there's plenty of elbow room. I could do with the pedals being a bit closer, but unfortunately the seat isn't adjustable because this car has been set up for its owner, not a guest driver.
I first saw this car last summer at a Vintage Sports Car Club meeting at Brands Hatch, where it was parked in a line of kit cars outside the shops near the Kentagon pub. From a distance, I thought it was an Alfa Romeo 159 Alfetta, because it had a very similar egg crate grille. But as I got nearer and saw numberplates and indicators, I didn't know what it was. Whatever, it looked fantastic. Fortunately, in front of the car was a sheet of paper explaining all. A special, it transpired, built by a bloke called John Nash: a member of the Kent Kit Car Club, whose display it was part of.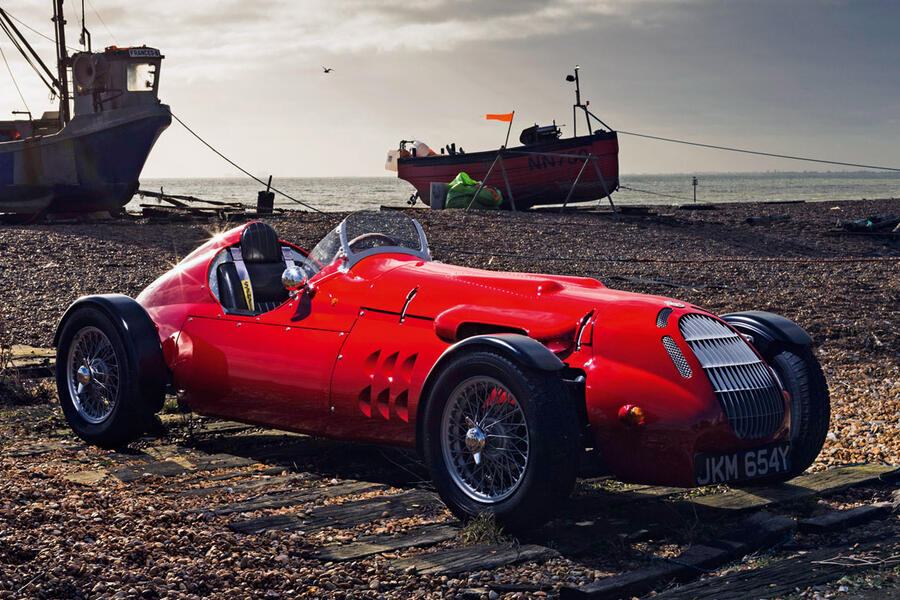 I missed two races waiting for the owner to turn up. Why? First, because I wanted to congratulate him on his incredible workmanship. I've spent a lifetime peering at kit cars and specials and have never seen one so beautifully finished as this. Second, because I wanted to know what lay under the skin of the JNS Special. A Jaguar engine? An Alfa twin-cam? And, finally, I wanted to know how the hell Nash had managed to build such a wonderful-looking machine for less than six thousand quid.
Eventually he arrived, explained that he'd built it from scratch over five years and that it had been inspired by pre- and post-war grand prix cars. And that it had indeed cost only £5750 to build; 7000 man-hours had gone into it – and nearly one marriage.