8:51AM, Thursday: Castle Donington
A new power has risen in the realm of the everyday hot hatchback – which, for the purposes of the next few pages, is rural Derbyshire. That's where we're heading. Right now, though, we're waiting… for a nice chap in a Volkswagen Golf R, long-standing lord and champion of the realm in question (up yours, Mr Darcy), and another nice chap with a camera or two.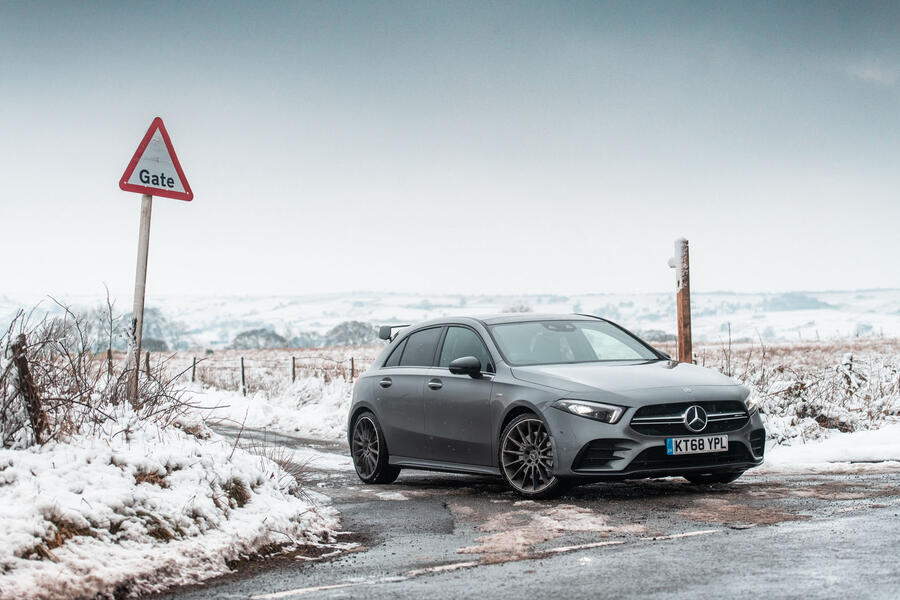 It's two degrees below freezing and, after a few unseasonably mild months, the British winter has finally bitten. Around here there's only about an inch of snow on the ground, but elsewhere the wintry barrage has been more severe – in the West Country, south Wales and the far north in particular.
And yet every national radio traffic report I've heard for the past few days has referenced those enigmatic passes of the Peak District, which have been opening and closing like a doorman's umbrella. Snake Pass. The Woodhead Pass. The Cat and Fiddle. UK roads aren't generally like the Great Ocean Road or the Route Napoléon; they're not showbiz enough to make it beyond an alphanumeric identity. But when they've got this much nomenclative charisma, you can't help wanting to drive them, can you?
So that's what we're going to do. From here, we'll be at the heart of the Peaks within an hour. And, as company for the Golf, we're taking a car that threatens its unique selling point: that of the defining, any-occasion, any-weather, one-size-fits-all four-wheel-drive performance hatchback.
Today is just another day, after all – chilly, slippery, salty and generally quite unpleasant if you're not lucky enough to be spending it in climate-controlled comfort. It's a day the ideal everyday hot hatchback ought to take well within its stride.