Don't think your wallet is safe just yet: we're only half way through our search for 2018's most cost-effective route to performance thrills, handling poise and driver engagement.
The annual Britain's Best Affordable Driver's Car (let's call it BBADC) shootout has previously crowned winners such as the outstanding Ford Fiesta ST200, and the very much not-for-wallflowers Honda Civic Type R - but only one of this year's eight starting cars will leave as the champ.
For the second round of testing, we thinned the group down to four, which meant which meant saying goodbye to the (still brilliant in their own ways) Mini Cooper S, Suzuki Swift Sport, Toyota Yaris GRMN and Volkswagen Up GTI. Left left four finalists: the Ford Fiesta ST, BBR Mazda MX-5, Hyundai i30 N, and Renault Megane RS 280 Cup.
Sit tight, then, and enjoy the action as it took place on the roads of the Lincolnshire wolds and South Yorkshire peaks, followed by a couple of sunny, skiddy, kerb-hoppy days at the outstanding Blyton Park Driving Centre.
By the end of day three, a clear winner had won affection and respect in equally telling measure and, as I hope you'd expect of us, Autocar's attending judging, driving, filming and photographing crew had had an absolute riot.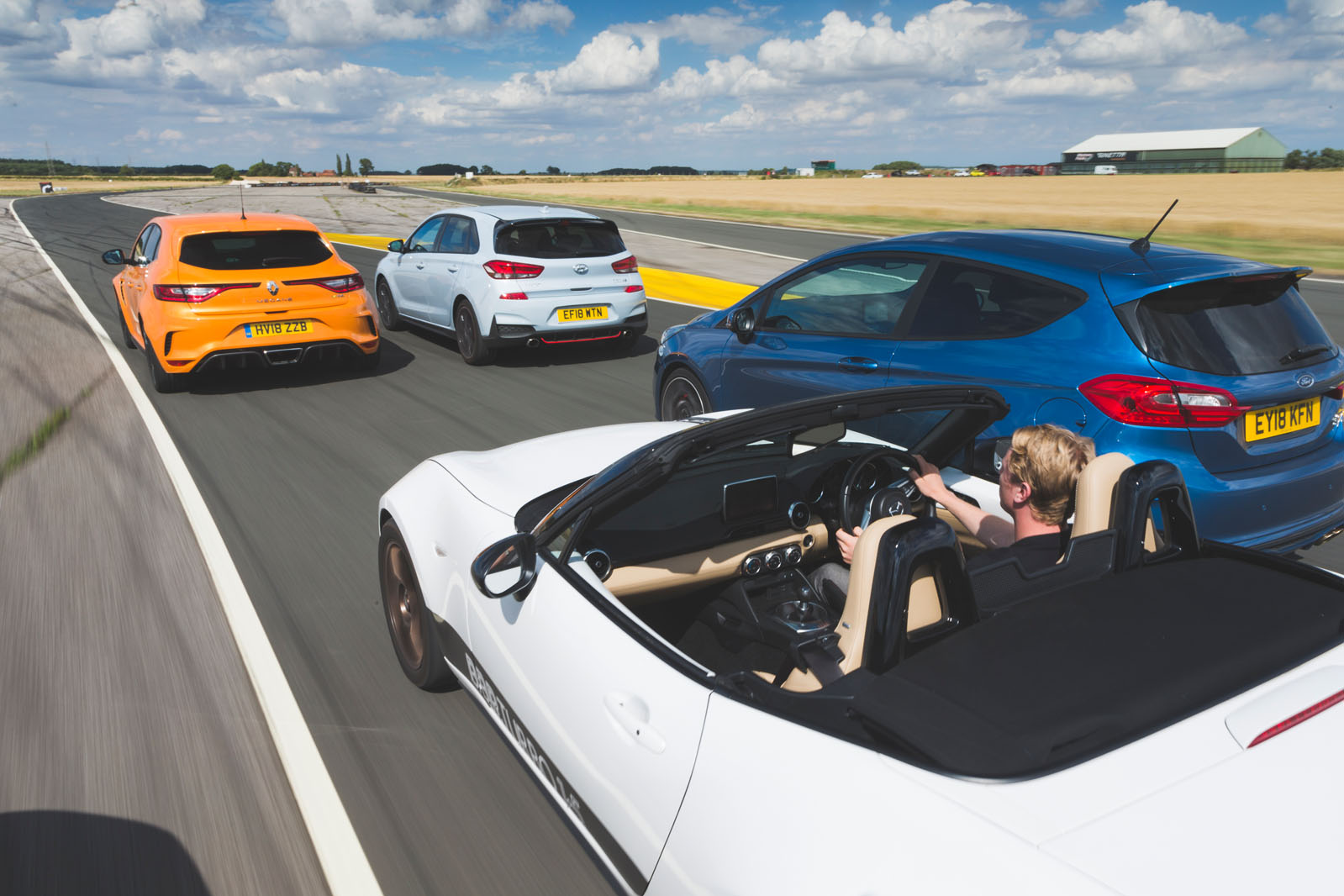 Part Two: The fantastic four
There is a corner of Blyton Park that is more revealing than all of the others put together. In it there's more to be learned about a car's high-speed stability, or its throttle-adjustability, or its low-speed agility than there is through the eye-widening esses or the fiddly sequence of 90deg bends at the end of the lap.
That corner of Blyton Park – of any circuit, in fact – is, of course, the paddock. In it, cars are left to tick and ping away as their metal components cool, while drivers emerge from stuffy cockpits and remove their helmets to download their findings to anybody who might care to listen. Mill around the paddock for an hour at a time to catch snippets of conversations or spot telling expressions and you will quickly get a sense of which car is doing it right and which ones are getting it all wrong.