A British-designed unofficial successor of the original Land Rover off-roader is a step closer with the launch of a digital campaign to build interest and invite would-be owners to engage with it.
The car, created and backed by industrial chemical conglomerate Ineos, goes by the codename 'Ineos Grenadier' and gets its own website (www.projektgrenadier.com) and social media presence as of today (19 September).
Insight: Ineos Grenadier - why a chemical firm is creating a 'serious' off-roader
Ineos founded its automotive business in 2015, shortly after Ineos chairman and principal shareholder Jim Ratcliffe identified the need for a car to pick up where the now-discontinued Land Rover Defender left off: in the company's words, "a world-class, uncompromising 4x4". Over the past two years, Ineos has been assembling a small team of designers, engineers and business experts to run the embryonic outfit. It plans to announce the location of the car's UK production base early in 2018 before revealing its first designs to the public later that year, with preliminary production starting in 2019 and deliveries in 2020.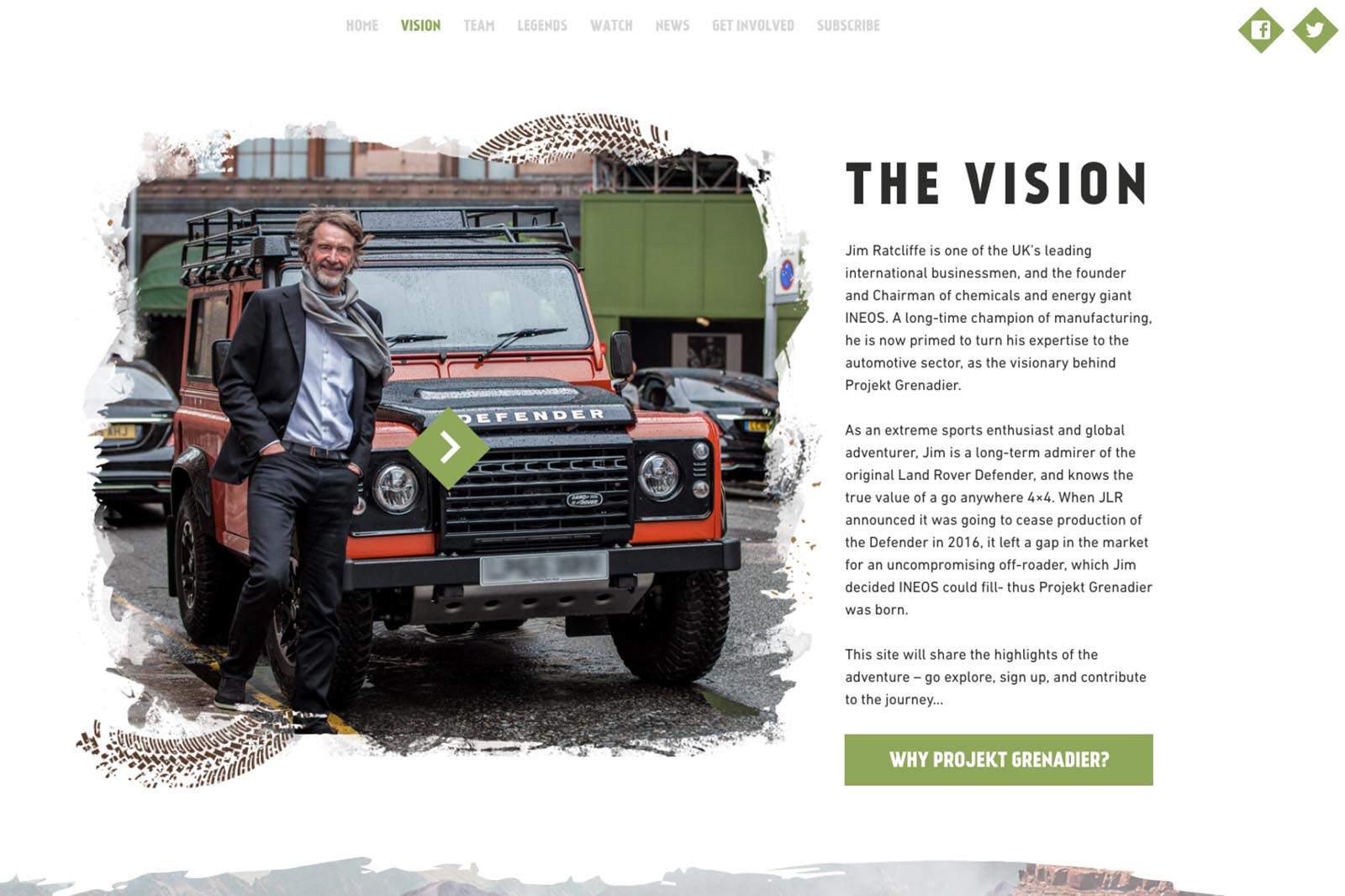 In the meantime – and in a departure from the 'behind closed doors' development philosophy of most automotive products – interested parties are being encouraged to participate at an early stage. The projektgrenadier.com website will publish regular updates on the car's development and insights on the team behind the car and the processes they're engaged with, while social media channels will encourage the public to share their views. "We are extremely keen to hear the opinions and recommendations of the off-roading public about how we can make this the best 4x4 possible," said Ineos Automotive CEO Dirk Heilmann.
The website will also be used for recruitment as the project gathers pace and the Ineos Automotive team expands. It will also host a competition for the public to determine the car's name.
Related stories:
Land Rover Discovery SVX revealed
Land Rover Discovery review