The best luxury cars were once synonymous with large limousine saloons. But that hasn't been the case for quite a long time.
A lot of those traditional saloons – the Mercedes S-Class, BMW 7 Series and Audi A8 – still feature on this list, but they have been joined by a number of SUVs.
Many are now available with plug-in hybrid powertrains, as well as the usual large-capacity diesels and V8s. There are even some electric cars here. Regardless of bodystyle and method of propulsion, they need to offer outstanding comfort in the front and back seats, isolating ride and noise refinement, and a sumptuous interior. For many owners, these cars will also be status symbols above all.
Today's car makers are technology companies as much as automobile manufacturers, so these flagship cars need to impress with the technology on offer too, without any of it feeling an after-thought or gimmick.
This list takes in cars that are incredibly comfortable, great to drive and great to be driven in – and the ones at the top of our rankings are capable of more besides. Our super-luxury cars top 10, meanwhile, is where you will find the even pricier Rolls-Royce, Bentley and Mercedes-Maybach models.
The best luxury cars on sale
1. BMW i7 and BMW 7 Series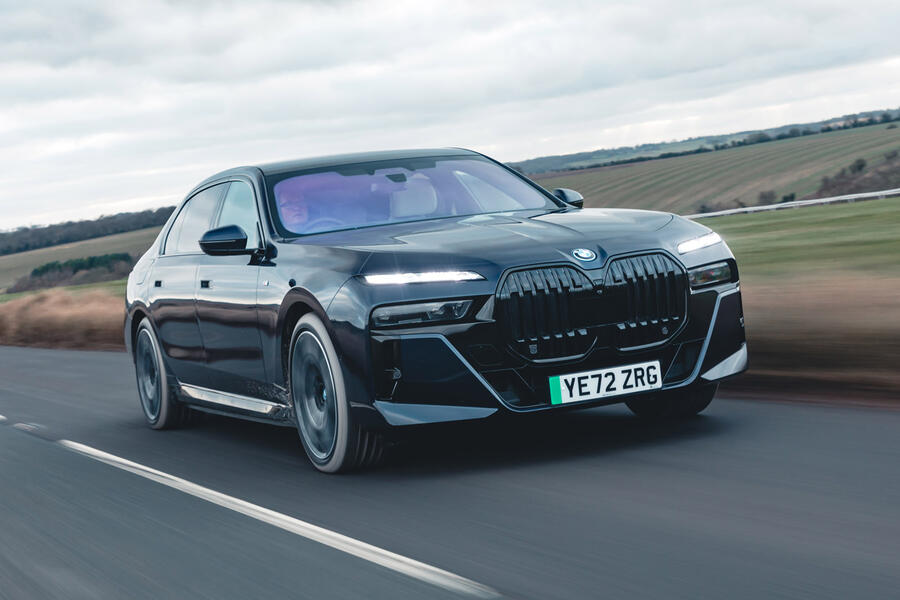 Pros: Interior melds cutting-edge tech and traditional craftsmanship
Cons: Exterior design is best described as challenging
If you need proof of how serious BMW is about staking its claim on luxury car glory, then consider the fact the i7 (and its ICE-powered 7 Series sibling) will only be available in leg-stretching long-wheelbase guise. While the previous six generations of the brand's flagship saloons have placed as much emphasis on driver delight and pampering passengers, this all-new model is all about five-star cosseting and cutting-edge tech.
It's the all-electric i7 that arrives first, but regardless of motive power, you're unlikely to lose the big BMW in a crowd. Not only is it a vast machine, but the slab-sided styling and gargantuan front grille also mean that the 7 Series is a 'challenging' aesthetic proposition.
Not so the interior, which melds all the latest technology with traditional craftsmanship and a rich array of natural materials, including the surprisingly indulgent cashmere wool trim you can choose for the seats. As you'd expect, there's acres of space to lounge around in, while additions such as the 31.3in BMW Theatre Screen for rear-seat passengers takes in-car entertainment to the next level. There's also the usual widescreen display ahead of the driver, but the retention of an iDrive rotary controller means you're not subjugated to the total tyranny of a touchscreen interface.
Using a twin-motor set-up and a 102kWh battery, the i7 is good for 536bhp, a claimed range of 367 miles and 0-62mph in 4.7sec. Less impressive is a kerb weight just shy of 2800kg. However, while performance is strong and the 7 Series handles with the polish and precision you expect (there's four-wheel steering for improved agility), it's the new-found sense of comfort that really sets the i7 apart from its predecessors, the supple and controlled ride easily matching the best efforts of the Range Rover and Mercedes S-Class. Factor in hushed refinement and the latest 7 Series finally delivers the luxury goods its forebears never quite managed to nail.