The Aston Martin DB5 is a car that once defined a brand. It was the chariot of choice for Mr Bond himself, and the resulting exposure meant this single model helped to shoot Aston Martin into the global limelight.
It was also remarkably good at being a luxury grand tourer, if Autocar's road test from 1964 is anything to go by.
"More and more cars today can reach the magical 'ton', but those that can do it with the ease and rapidity of the Aston can be counted on the fingers of one hand," is the explanation in the near 52-year-old issue.
"It is a car that defies definition, for it can put on so many widely differing characters that it always seems tailored to one's mood of the moment," the article continues. "Pottering home through a city's evening exodus, whittling through strings of weekend tourists, or gobbling up great strings of concrete motorway like an Italian with a plate of spaghetti, the Aston makes all of these light work and comes to the end asking for more."
Priced at £4248, including tax, the DB5 wasn't far off the value of a semi-detached house. Yet the Autocar road test team remained convinced that the price was justified, especially after subjecting the DB5 to some high-speed testing on track.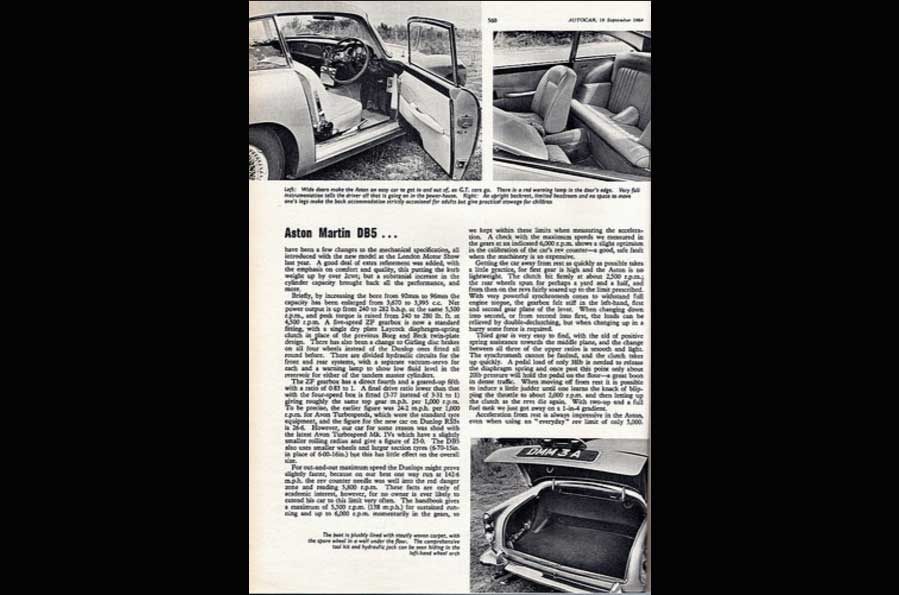 "During several fast laps of a closed test circuit, we tried to find the limit of adhesion. Initially, the car under-steered, but as we got faster and put the power on earlier there was a progressive change to oversteer. We were then able to slide the bends more smoothly with opposite lock, with no qualms whatsoever, and well within the width of the road."
The DB5, with its 4.0-litre six-cylinder engine, produced a healthy 282bhp and 280lb ft of torque. It weighed a little over 1.5 tons and could accelerate from 0-60mph in 8.1sec. Top speed was more than 140mph, making it faster than the Maserati 3500 GTI but nearly 10mph slower than the Jaguar E-Type.
Our road testers commended the car's five-speed ZF gearbox for its "powerful synchromesh cones" that could "withstand full engine torque," but admitted that their strength meant the 'box "felt stiff in the left hand". They recommended using force "when changing up in a hurry".