I, like everyone else who writes for this esteemed publication, can still fully appreciate and enjoy driving a car with a well-sorted chassis in 2019.
Even accepting the ever-growing traffic levels and ever-increasing war on speeding, sharp handling can still be appreciated. Living in leafy Berkshire, I don't have to drive far to find a quiet, entertaining piece of road where I can stretch the legs of whatever I'm in, while most of Britain's B-roads can still expose flaws in an overly soft set-up.
But - and this is perhaps where I distance myself from some colleagues - the quality of a car's ride is of greater significance to me. Even on the aforementioned B-roads.
My patience has been tested by a number of cars recently. One in particular stands out: the new Renault Mégane RS 300 Trophy. For the 10% (or less) time behind the wheel where I could actually enjoy its super-tight body control and prodigious grip, the other 90% of time was spent being jostled around like a wallet in a washing machine.
As road tester Simon Davis noted in our UK drive of the Trophy, the stiffness and crashiness of its ride (it gets the Cup chassis as standard and no adaptive dampers) borders on absurdity. It picks up bumps you never knew existed on your favourite roads, and you spend more time looking out for the next pothole to swerve around than you do pinpointing the next apex. In fact, on my commute down the recently resurfaced M3, the constant up-and-down bobbling motion left me feeling a bit sick.
And such issues aren't exclusive to performance models. Far from it. I've recently taken delivery of a DS 7 Crossback as my long-term test car. This is a model that's marketed as very much a comfort-focused SUV, yet it has been specced with 20in wheels, like the car pictured below.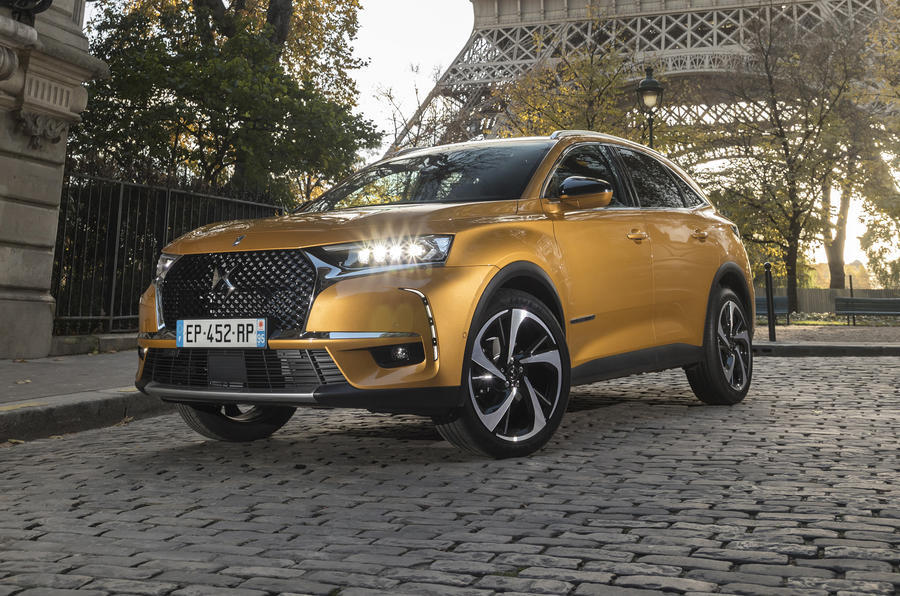 Stylish it may be, and the ride is a long way from being as uncomfortable as the Trophy's, but the reduced tyre sidewall makes low to mid-speed surface disturbances more apparent than they should be, given the brief. Mid-corner potholes also throw the car off your chosen line significantly. I'm expecting to encounter more trim rattles as a result, too.
These experiences are echoed across almost every SUV I've driven in the past couple of years. The bulky side profile forces designers to spec ever-larger wheels to fill the arches, adding to suspension settings that are often already stiffer than those of a normal hatchback or saloon in order to mask the higher centre of gravity. It has an effect on every segment, though: the ride of my old Kia Ceed long-termer was a great deal more settled on 16in wheels than 18-inchers.