The Emilia Romagna Grand Prix proved far more exciting than many had predicted after last year's yawn-fest at Imola, thanks to a deluge of rain before the start.
Max Verstappen took a commanding win for Red Bull-Honda, which again looked to have the fastest car on the 2021 grid, while Mercedes-AMG's Sir Lewis Hamilton recovered fantastically from a slide into the gravel on greasy asphalt. The podium was completed by British youngster Lando Norris, who drove superbly for McLaren-Mercedes.
Here we round up the major talking points from the second round of the 2021 F1 World Championship.
We're in for a title battle
Not since 2016 have F1 fans been truly treated to a title battle, due to the utter dominance of Mercedes. But the rule changes for 2021, despite them being minor, have benefited the cars that subscribe to a high-rake aerodynamic philosophy and hampered the low-rake cars – which are only the Mercedes and Aston Martin.
The Red Bull again looked to be the fastest car at Imola, and Verstappen made up for his near miss in the Bahrain season opener by brilliantly outdragging from third on the grid his team-mate Sergio Pérez and Hamilton, to lead into the first turn. From there, Verstappen never looked back. There was a heart-in-the-mouth moment as he nearly lost it before the restart, but Verstappen held on and didn't let that shake his confidence.
Hamilton versus Verstappen in closely matched machinery over the course of a season is something that F1 fans have long desired. Imola seemed to confirm that we're finally going to get just that. Sparks: be ready to fly.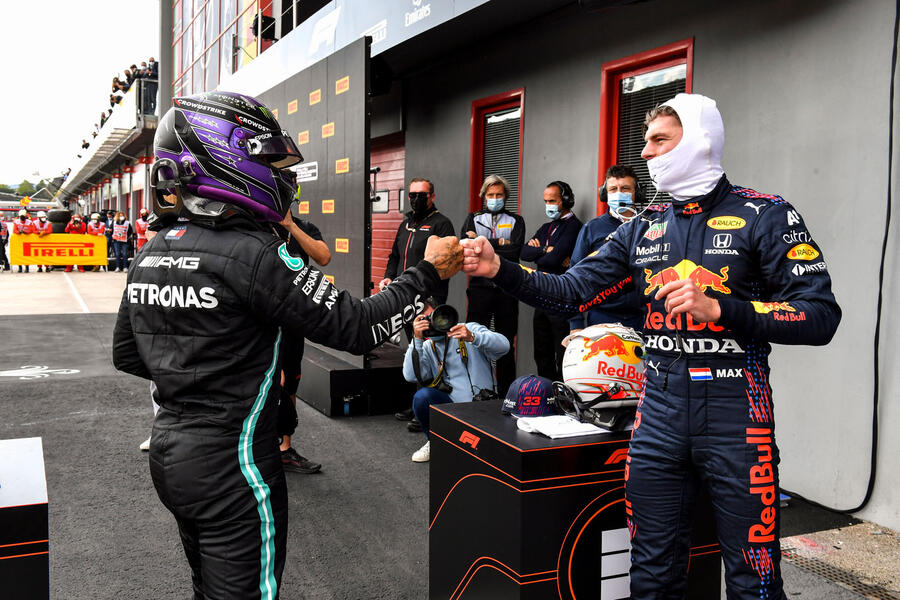 Bottas feeling the pressure
Having never been anywhere close to Hamilton in his years at Mercedes, Valtteri Bottas is widely expected to lose his Mercedes seat at the end of this season, unless he really pulls it out of the bag. At Imola, he couldn't even open the bag's zip. He qualified just eighth in the second-fastest car, didn't make up too many places and then had an almighty crash – followed by some in-person aggression.
All the more interesting was that this crash was with Williams-Mercedes man George Russell, who is popularly believed to be in line for Bottas's seat. Russell was outdragging Bottas down the pit straight (aided by Imola's newly extended DRS zone, which helped to alleviate the boredom of last year), the Finn moved right a tad at a critical point, pushing Russell onto a wet patch of the drying track, and the sudden wheelspin sent him nose first into Bottas's sidepod at 200mph.