There was some light relief at the Frankfurt show's annual Volkswagen Group night during the reveal of the ID 3, as the curtains failed to fall at the right moment. But beyond all that, it was the brand's message that resonated.
VW's executives took to the stage with lots of smiles and jovial banter, with design boss Klaus Bischoff bringing on a young girl to get her view on what the car of the future will be, as well as drawing the front of the ID 3 with its 'smiley' face to the girl's delight.
It seems the German car maker was capitalising on the 'Greta Thunberg effect', wheeling out a fresh-faced teenager to melt the hearts of the audience as she explained that all cars of her future must be kind to the environment.
A cynic may scoff (I'll admit I did at first) but this is an absolutely necessary tactic for a brand that is hoping to put the past half decade of turmoil behind it. The "friendly face" of the ID 3 is said to further represent a change in attitudes at VW, of putting "people first" rather than doing everything to keep the shareholders happy.
Certainly, the steps that have been taken after Dieselgate are clear to see: the group is engaged in the world's largest electrification ramp-up. By contrast, over at Ford's stand, it all looks a bit 2015. Tucked away in one of the less imposing halls, the brand's key phrase 'Go Electric' splashed above promises much, but although everything on the stand is hybridised, there's no sign of any pure EVs.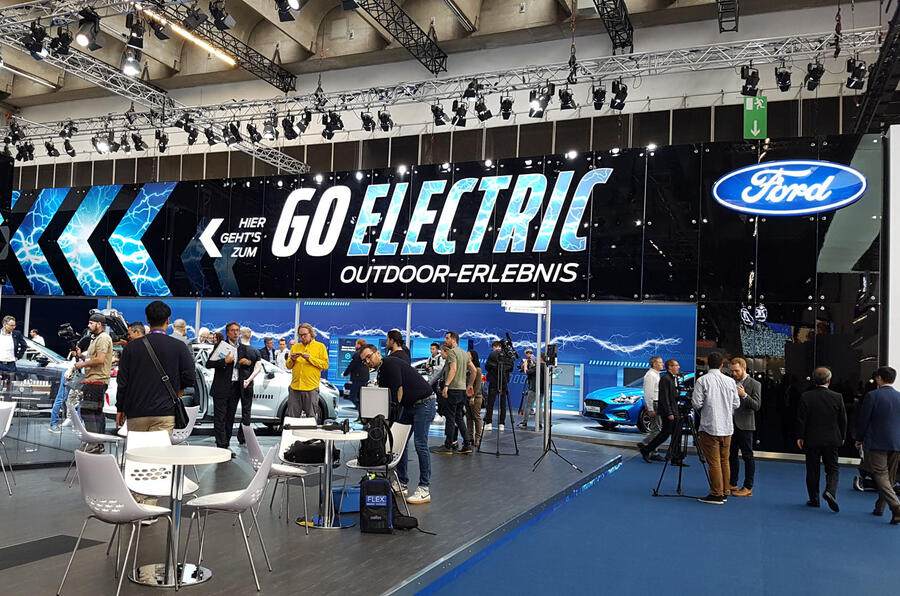 Ford hasn't had the aftermath of a scandal to kick it into action, but in the wake of the firm's massive financial woes and a European business restructuring, Frankfurt seemed the perfect opportunity to draw the gaze of the industry with a mass-market electric model. However, that won't arrive until next year: a Mustang-inspired EV. More significantly, it's Volkswagen that is actually supplying Ford with an electric platform. That's good news in the long term for the Blue Oval, but with Volkswagen aiming for six-figure EV sales as soon as next year, Ford could be left behind before it has begun.