It was worth the wait to witness the launch of the Mercedes-AMG Project One, though it didn't seem as if it was going to be.
It took a while to get going. After drinks and canapés we all filed into the familiar, barn-like Daimler show pavilion, and sat either on benches in front of the stage, or on rising walkways either side. 
Frankfurt motor show: live report and updates
There was some abstract and overblown dancing as a chorus defined the word 'disruption'. Daimler chief Dieter Zetsche, his luxuriant 'tache a little bit whiter than ever, strode forward to tell us, superfluously, that good ideas form the basis for change, and to outline the company's stance on diesel.
The chorus turned to singers as the autonomous Smart Vision EQ ForTwo concept rolled out. Smart, Zetsche noted, is going all-electric from the end of the decade and Daimler would, by 2022, offer at least one electrified version of every model - a matter of 50 electrified vehicles.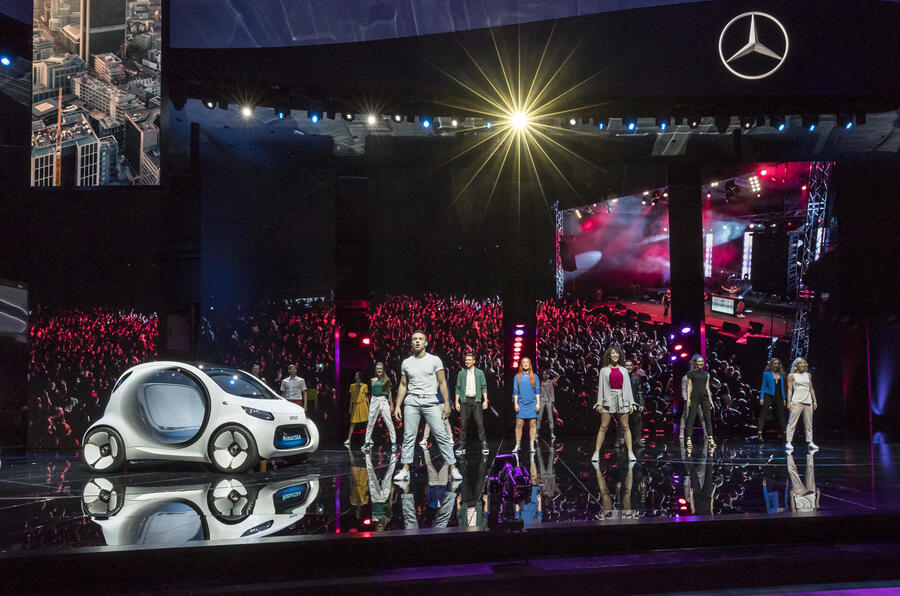 At last, the Smart singing stopped. It was time for the main event. "I think you may know what is coming," said Zetsche.
A 2015 F1 Mercedes, and a 1954 Grand Prix car drove onto the stage. Zetsche started talking statistics. Every F1 race weekend, 3.5 billion pieces of data were recorded on the cars. Zetsche talked on about the Brixworth-built 1.5-litre V6 engine and its four supporting on-board electric motors, one of which drives the turbocharger.
Then there was an unearthly noise - unmistakably an engine, but like no engine we knew. Something that could rev to 11,000.
Out drove the car, low and long and very much like a Le Mans car (complete with ventral fin) but with fuller sections and more attractive proportions than one of those ugly LMP1 cars Project One is reputed to be as quick as.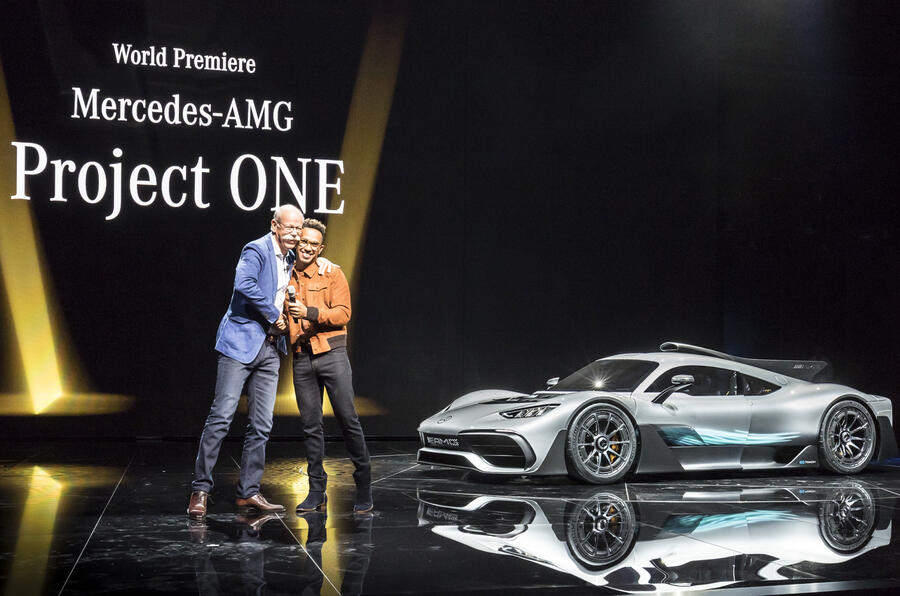 The dihedral door opened slowly, and out stepped Lewis Hamilton, sporting yet another radical haircut which, for a moment, made him hard to recognise. Hamilton told Zetsche that the absolute best thing about his remarkable life in F1 was driving the car. Also that when it comes to making a race car for the road "no-one's really done it well" so far – which might have grated a bit with Porsche, Ferrari and McLaren.
Then the auditorium lights came on, there were pictures, and the Daimler brass departed, leaving the cars on stage for everyone to examine. AMG's Tobias Moers was there, looking exhausted. In the audience, hoveringly as discreetly as billionaires can hover, were some of 'the chosen' who will take delivery a Project One in a couple of years' time - at €2.25m plus local taxes. There will be 275 cars and no more. Lots of these people committed to cars, we were told, without even seeing a picture.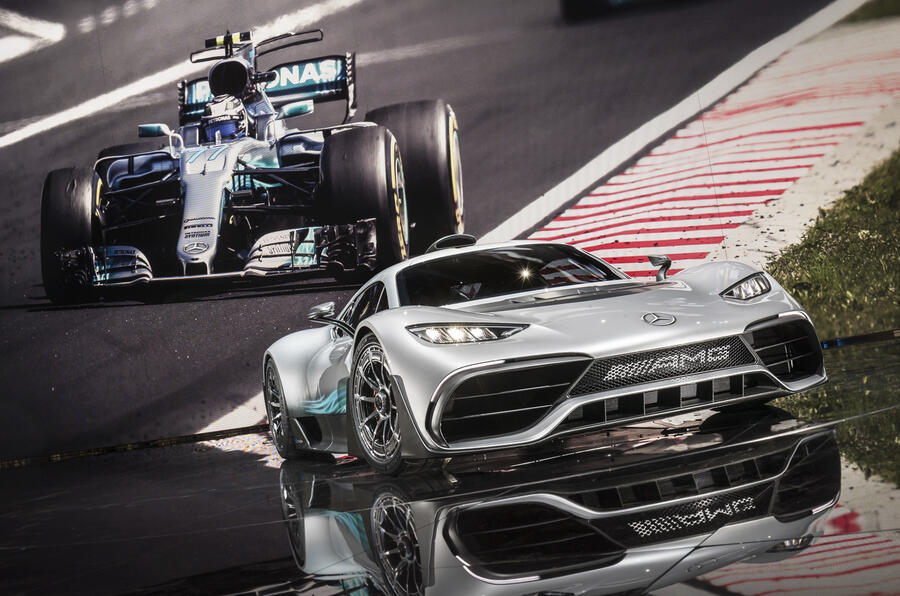 As well as being a car, Zetsche explained, Project One was a signpost for the whole future of AMG, a company that will come to depend as heavily on hybrids and electrification as anyone else. 
"In 40 years at Mercedes," he said, "I have never known a car to be surrounded by such hype".
Perhaps Zetsche had been right, early in his speech, in his assertion that as a result of the diesel scandal some of the public had lost faith in the German car industry. But here was 24-carat proof that plenty had not.
Read more
Lewis Hamilton reveals the Mercedes-AMG Project ONE hypercar