It was worth the wait to witness the launch of the Mercedes-AMG Project One, though it didn't seem as if it was going to be.
It took a while to get going. After drinks and canapés we all filed into the familiar, barn-like Daimler show pavilion, and sat either on benches in front of the stage, or on rising walkways either side.
Frankfurt motor show: live report and updates
There was some abstract and overblown dancing as a chorus defined the word 'disruption'. Daimler chief Dieter Zetsche, his luxuriant 'tache a little bit whiter than ever, strode forward to tell us, superfluously, that good ideas form the basis for change, and to outline the company's stance on diesel.
The chorus turned to singers as the autonomous Smart Vision EQ ForTwo concept rolled out. Smart, Zetsche noted, is going all-electric from the end of the decade and Daimler would, by 2022, offer at least one electrified version of every model - a matter of 50 electrified vehicles.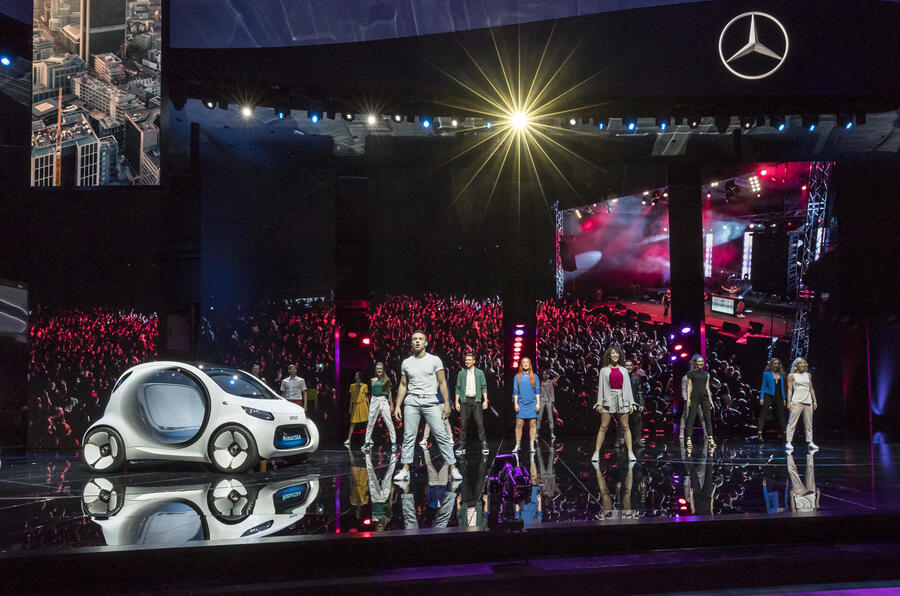 At last, the Smart singing stopped. It was time for the main event. "I think you may know what is coming," said Zetsche.
A 2015 F1 Mercedes, and a 1954 Grand Prix car drove onto the stage. Zetsche started talking statistics. Every F1 race weekend, 3.5 billion pieces of data were recorded on the cars. Zetsche talked on about the Brixworth-built 1.5-litre V6 engine and its four supporting on-board electric motors, one of which drives the turbocharger.