Smart has revealed how it expects city cars, urban mobility solutions and car-sharing models to progress in the future with the unveiling of the electric Vision EQ Fortwo.
Revealed at the Frankfurt motor show, the self-driving two-seater showcases the solutions and technology Smart boss Annette Winkler says are being considered for the company's future city car models and are set to play a key role in parent company Mercedes-Benz's Car2Go car-sharing programme by 2030.
"The Smart Vision EQ Fortwo is our vision of future urban mobility; fully autonomous, with maximum communication capabilities and electric," says Winkler.
The centrepiece of the new concept car is an advanced Level 5 autonomous driving system. It is integrated with swarm intelligence in a move that Smart suggests will make future models and associated car-sharing fleets more convenient and efficient by better anticipating the predictability of demand.
"In the future, car-sharing users will not have to look for the next available car – it will find them and collect passengers directly from their chosen location," says Winkler.
Smart considers the adoption of autonomous driving technology in the development of its Car2Go scheme a key component in its growth plans. Currently, a Smart model is hired every 1.4sec in cities around the world through a customer base of more than 2.6 million. The company says internal studies predict the number of users of car-sharing schemes worldwide will increase fivefold by 2025 to more than 36.7 million customers.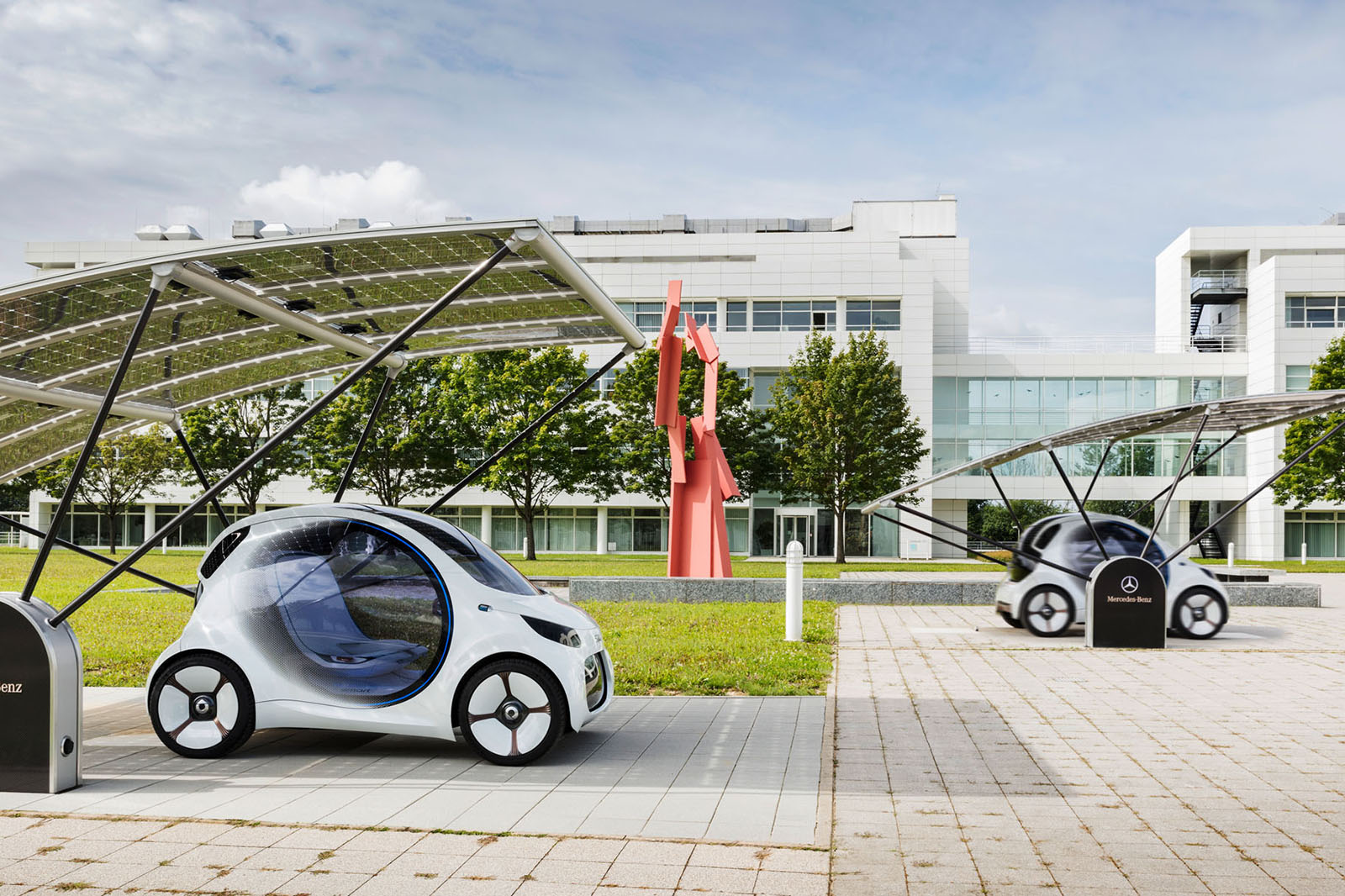 Hinting at plans by Smart to take its line-up exclusively electric in the future under Mercedes-Benz's EQ electric sub-brand – a move that's expected to be announced at next year's Geneva motor show - the Vision EQ Fortwo features a rear-mounted electric motor and 30kWh lithium-ion battery offering a range of "well over 300km".
When not in use, Smart envisages the two-seat city car to draw on its autonomous driving ability to make its way to a charging station, where its battery can be charged though inductive means, without the need to plug it in.
"Connectivity means you are order and use this car by using your smartphone," said Mercedes boss Dieter Zetsche. "The Smart will be used in swarms so you will never be without transport for long. By providing couriers and delivery services at night, obviously the Smart couldn't transport much, but we will have a fully autonomous and electric Fuso truck launching in a few days."