Maserati's grand debut for 2020, the new MC20 sports car, has been leaked online just hours ahead of its planned unveiling this evening.
What appear to be official press shots of the Audi R8 rival have been posted by various sources across social media. The MC20 features a front-end design heavily inspired by the race-bred MC12 supercar, with scissor doors and a two-tone paint scheme also featuring.
We also get a glimpse of the cabin, which appears to feature a design bespoke to that of any current Maserati.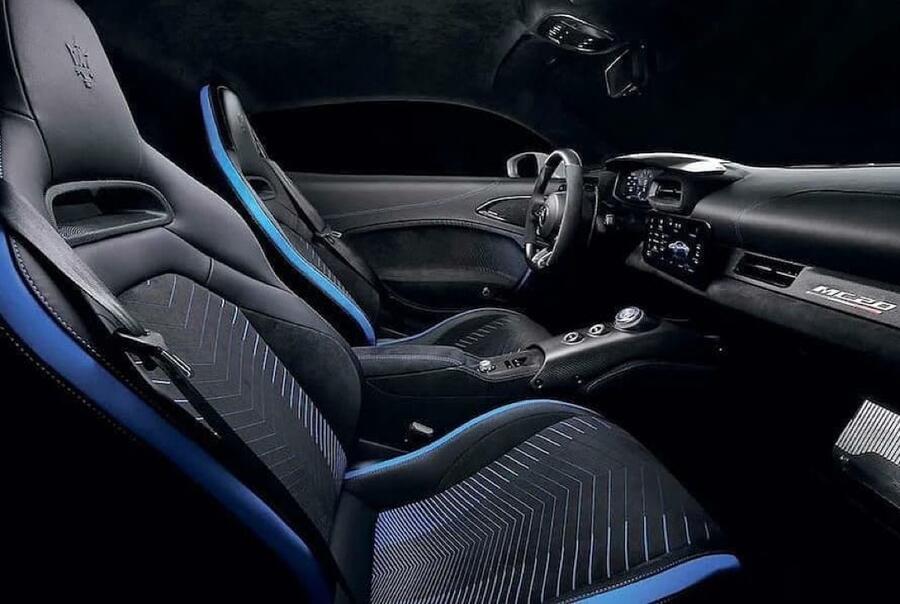 Earlier disguised prototypes provided a close look at the upcoming model, with a sculpted body and low-slung stance that make it appear more purposeful than anything in Maserati's current line-up. There's significant air intakes around the rear wheel arch and a small lip spoiler at the rear, in addition to two centrally-mounted tailpipes.
The MC20 will become the first to use the company's all-new bespoke V6 engine, named Mettuno (Neptune) in reference to the mythical character associated with the brand's trident logo.
The twin-turbocharged 3.0-litre petrol motor will produce 538lb ft and 621bhp - slightly more than the 2005 MC12, Maserati's most powerful production model to date.
It's said to pack "technological features derived from Formula 1, resulting in improved engine efficiency, increased performance and reduced consumption." Features include a supercar-style dry sump, a 'pre-chamber' between the main combustion chamber and spark plug to enhance combustion, a secondary lateral spark plug that ensures constant ignition throughout the rev range and a twin-injection fuel system claimed to reduce noise, emissions and fuel consumption.