Why we're running it: To see whether this electric family hatchback has the versatility to be Volkswagen's new people's car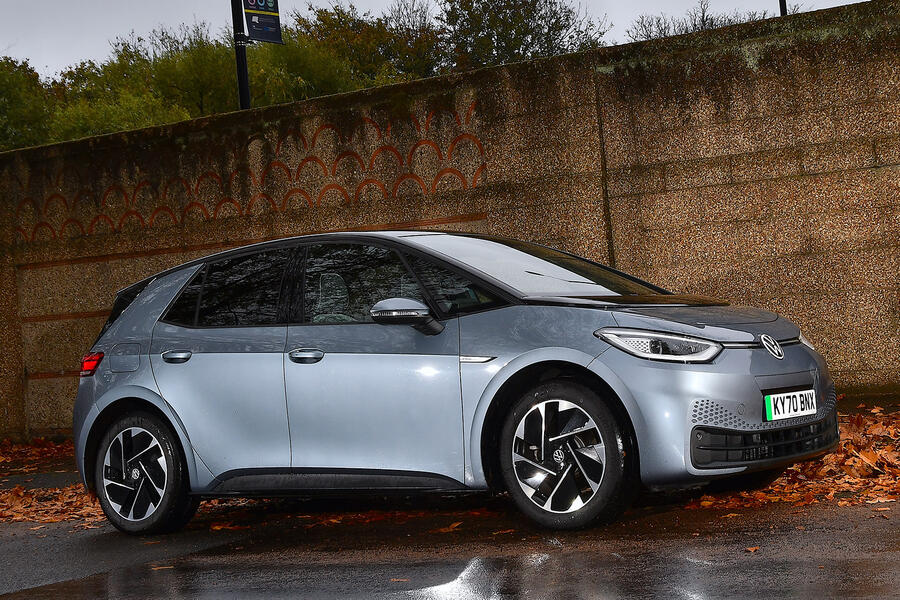 Life with an ID 3: Month 1
Doesn't feel very premium - 5 January 2022
While the cabin is impressive for its roominess and airy feel, interacting with it is another story. The controls on the dash and steering wheel feel weird to operate, and even opening or closing a door is a tactile turn-off, because the parts of the armrests that you grab are covered in hard plastic. At least the leather-wrapped steering wheel rim feels good.
Mileage: 2625
Gets better with time - 1 December 2021
Adjusting to the ID 3 from my previous Citroën ë-C4 took longer than expected. The ID 3's steering is slower and heavier than the ë-C4's and the car feels more ponderous. But now that I've got used to it, I'm really starting to appreciate the ID 3's well-judged ride-and-handling balance and the smooth, uncorrupted feel of its steering.
Mileage: 1545
Welcoming the ID 3 to the fleet - 24 November 2021
As electric cars glide quietly yet inexorably into the mainstream, the Volkswagen ID 3 might well become the car that defines the family hatchback class in the new era, in the same way that the ubiquitous Volkswagen Golf has done for a good portion of my lifetime. Although the Golf itself isn't ready to be pensioned off just yet, it surely won't be long before the ID 3 surpasses its stablemate in the sales charts and takes over as the people's car for the zero-emissions age.
Given the significance of the car to both Volkswagen and the multitudes who still buy family hatchbacks, I'm fairly excited about the prospect of joining the fast-growing club of ID 3 owners. On the face of it, this is a car that ticks a lot of boxes, being strong in a number of key areas, from range and performance to interior space and practicality.