What is it?
It's a new Nissan Juke, but you'd know that even if you hadn't been told, because it so clearly looks like a replacement for the Juke that has been around for the past nine years, and which popularised, rather than invented, the trendy compact crossover.
The Juke is now, as it was then, a small, tall hatch, bigger than before, though not by a huge amount. At 4.2 metres long, it's halfway between a supermini (Ford Fiesta etc) and small family car (Ford Focus etc) in length, a size that now means adults can sit behind adults and which lifts the boot volume by 20% over the old Juke, to 422 litres.
It sits on the Renault-Nissan group's small CMF-B platform, which you'll also find underneath the latest Renaults Renault Clio and Captur and it'll be built in Sunderland.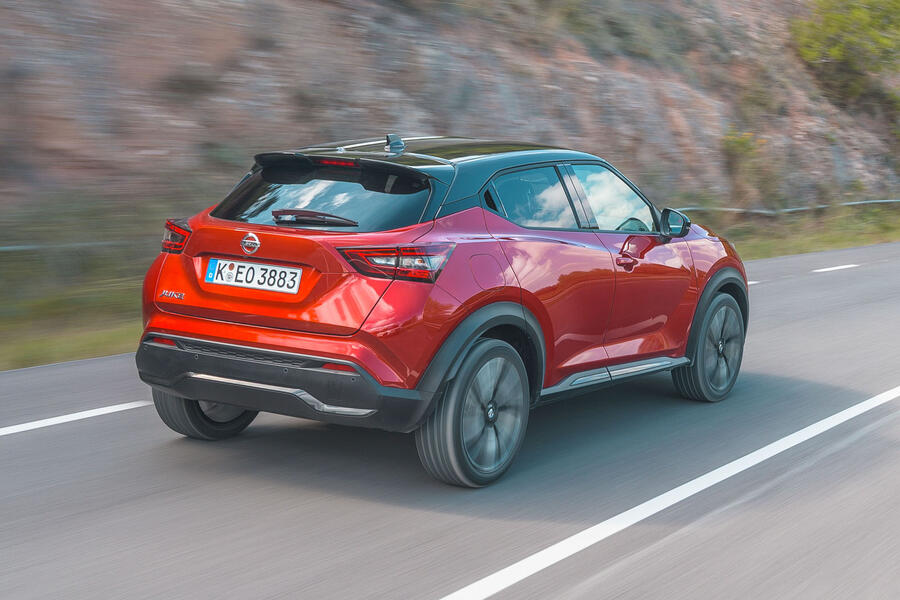 It's a relatively conventional architecture, with MacPherson struts at the front and a torsion beam at the rear, while the transverse engine drives the front wheels only. The only engine option – for the moment – is a three-cylinder, 1.0-litre petrol turbo making 115bhp and 133lb ft, which is allowed to rise to 148lb ft on overboost for a short time in higher gears, to facilitate overtaking. But the platform has been developed to accept electrification, so you can expect hybrid versions, though no diesel, later.
With the 1.0, claimed performance is moderate – 0-62mph takes 10.4sec with a six-speed manual; a seven-speed dual-clutch automatic version, which can be had on anything above base trim level, adds £1400 and 0.7sec to the 0-62mph time. Depending on your wheel and trim specification and gearbox choice, the Juke will return between 44.1mpg and 47.9mpg, and between 110g/km and 118g/km, on the WLTP emissions test cycle.