What is it?
Conquering the compact executive saloon segment is the ultimate litmus test for a premium manufacturer. Not because it's the most prestigious or exclusive class, but simply because the level of competition is so fierce. For if you can defeat competitors such as the Jaguar XE, BMW 3-Series and Audi A4, not only do you gain a rolling mass-produced advert of your technological prowess, but you also secure the loyalty of first-time premium car buyers.
Yet, despite entering the UK market back in 1999 with its innovative IS, Lexus has struggled to make anything other than the faintest impression on mid-level buyers; a situation the third-generation car categorically failed to rectify. Coming without the option of a diesel engine, Lexus pitched the 2013 IS as a sporting, albeit economical (in Hybrid form at least) alternative to a sporting business saloon. Shame then, that in reality, it performed neither role convincingly.
But that's not to say we don't like the IS. Far from it. In terms of interior quality, appealing design and remarkable refinement, it still has the majority of the German opposition beat. Therefore, for 2017, Lexus has decided to build on what we already like – namely, exceptional craftsmanship and functional interior design – and to rectify what we don't – poor ride quality and a lack of driver involvement.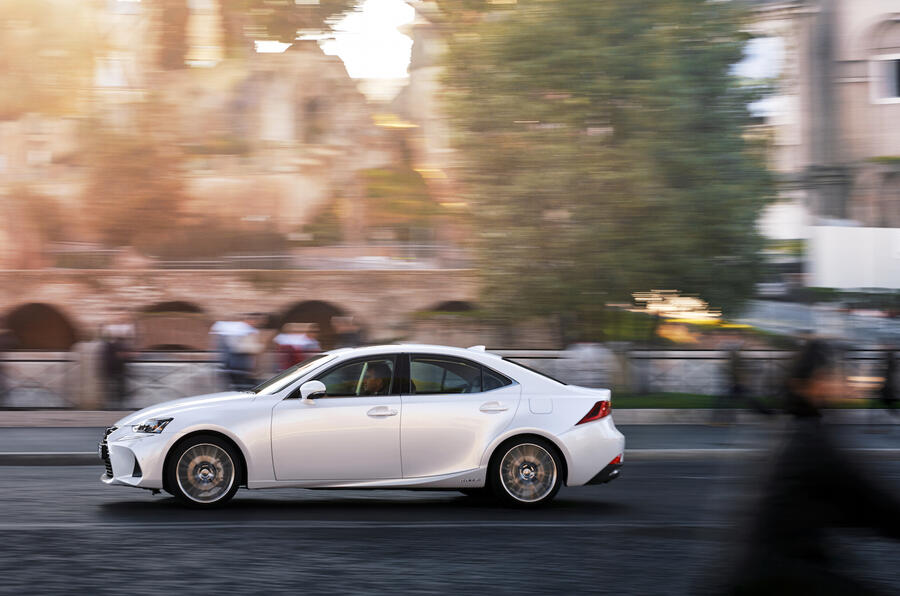 It's no surprise, then, that the external styling changes to this facelifted IS are minor, with new front and rear headlights, larger air intakes and an evolved version of Lexus's spindle grille, simply enhancing what was already a handsome and cohesive design. The cabin, too, looks suspiciously similar to last year's model, which is no bad thing. We've always been fond of the IS's clean yet functional interior.
Instead, Lexus has dedicated most of its time to perfecting its frustrating infotainment system. The centrally mounted screen has significantly increased in size, from seven to 10.3in, and the high-resolution monitor now functions as a split-screen, so that different information displays can be presented simultaneously. The controversial Remote Touch Interface has also been re-worked and in-car WiFi is now offered as an option.
Dynamically, the updated IS should also feel sharper than the car it replaces thanks to stiffer anti-roll bars, tweaked dampers and new electric power steering settings. Yet Lexus claims these changes have had no impact on ride quality.