---
Sooner or later, most car manufacturers decide to let their engineers play on a race track to show the world what they can make. Most recently, Kia did it with the Stinger GT S, and back in 2008, Lexus did it with the IS F.
Coming from a brand lauded for its super-refined and reliable hybrid saloons, the IS F's arrival was a pleasant surprise. Here was a car pitched to take on rivals such as the BMW M3 and Mercedes C63 AMG and it wielded a big and unusual stick in the form of a naturally aspirated 5.0-litre petrol V8 producing 417bhp.
Drive was sent to the rear wheels via an eight-speed automatic gearbox with flappy paddles, a lock-up mechanism from second gear upwards for faster shifts and an ability to go right to the rev limiter. (Check for unusual engine noises caused by over-enthusiastic revving.)
Click here to buy your next used car from Autocar
Below stairs, suspension components were forged from lightweight materials and the antiroll bars were beefed up. The only duff ingredient in this fascinating mix was the adoption of electric power steering.
It was expensive, too, but buyers forgave it because of its quality, technical specification, exclusivity and Lexus's reputation for customer service. Reviewers praised its styling, engine note, chassis balance and strong brakes but criticised its hesitant gearbox, fidgety ride and absence of a proper limited-slip differential (instead, it has an electronically controlled open diff).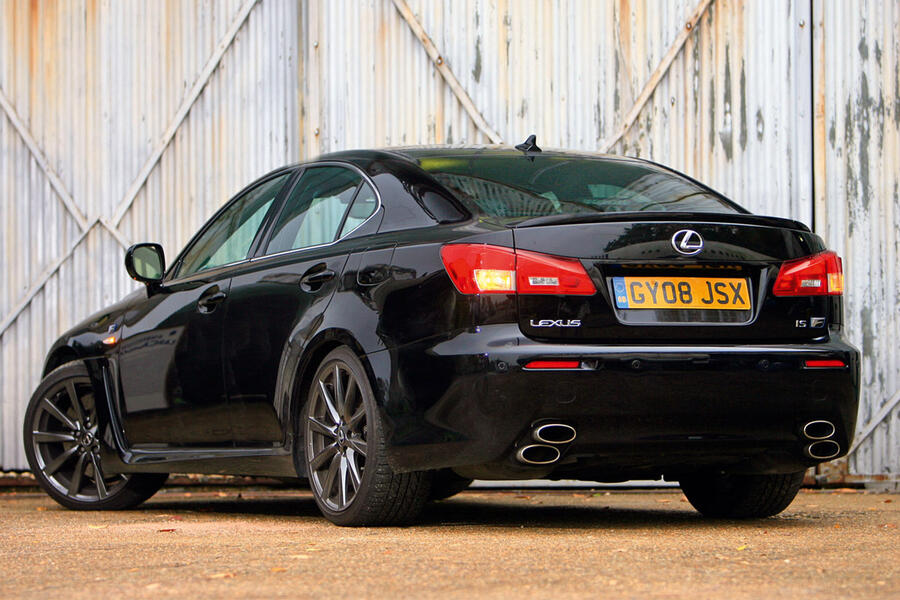 Fortunately, Lexus was listening, at least to complaints about the diff, and swapped the existing unit for a proper limited-slip diff in 2010. The sat-nav system was also upgraded.
More changes followed a few months later when the IS F's ride deficiencies were partly addressed with the fitment of revised springs and shock absorbers. The rear suspension was also adjusted to provide greater stability. At the same time, the instrument binnacle was restyled and, outside at the front, LED daytime-running lights joined the existing HID headlights.
Despite these changes, only around 200 IS Fs had been sold in the UK by the time the axe fell in 2014. That's good news if you like the idea of driving something a lot more exclusive than an M3 but not so good if you like plenty of choice when shopping for your next car. At the time of writing, we found only around 10 IS Fs for sale. However, they looked like good cars. Conversations with a handful of private sellers were encouraging, too. To an owner, they had nothing but praise for their IS F's reliability and had taken real care of it. Our advice, though, would be to avoid paying their asking prices, which are on the high side.
We really tried to unearth problems with the model. The only relatively widespread issues we found, courtesy of a Lexus technician who owns an IS F, concerned leaky water pumps (earlier cars were most affected and problem pumps were replaced under warranty) and a leaky heat transfer plate. So not that much. If only we could say the same about an M3.