What is it?
The most important new car of 2017? The new Land Rover Discovery is certainly one of them, and when I tell you it's new, I mean it's new-new.
You can probably see that yourself, mind. The previous-generation car, the Discovery 4, looked a lot like the Discovery 3, only was far more upmarket inside. And it drew a lot more sales by being that way. That's what gave Land Rover the impetus to up the 'premium' count again and make the Discovery a family of cars and launch the Discovery Sport. So, in the same way the Disco Sport replaced the Freelander, so this Discovery arrives, replacing the old Discovery's blocky, stubby looks.
In its place is a car that's more Ranger Rover-esque around the front. Land Rover is aware it's playing with a car that owners have dearly loved and bonded with, so is at pains to say it has carried over many Discovery cues, such as some shapely metalwork around the C-pillar, a clamshell bonnet (though a Range Rover gets one of these too), and a roofline gently rising all the way to the rear. This is essential to package the seven full-sized seats which Land Rover says are crucial to the Discovery's success – and which differentiates it from a Range Rover. It uses words like 'lifestyle' and 'versatile', but what it's talking about are the things that have made it a great family car in the past.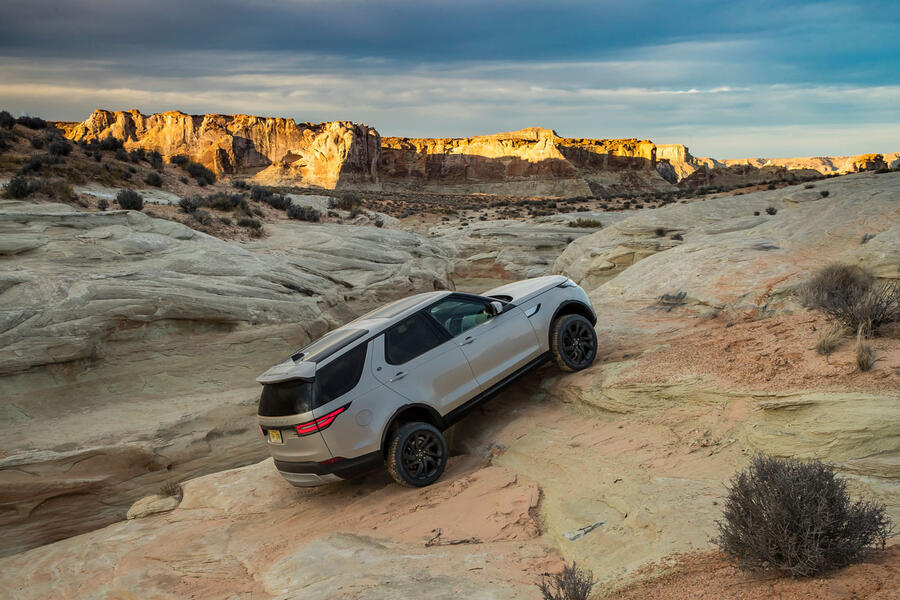 More on that in a moment, but first, technical details. As with the Range Rover Sport, the old Discovery's separate chassis and body has been replaced by an aluminium monocoque, suspended by double-wishbones at the front and an integral link setup at the rear, just like the Range Rover. There are differences, though: instead of aluminium subframes front and rear, the Discovery uses steel ones; heavier, yes, but they take up less room, which is what allows a full-size set of seats in the third row, a deep luggage space (up to 2406 litres) and room for the full-size spare wheel that buyers of 'proper' 4x4s will consider essential.
This make the new Discovery lighter than its predecessor, obviously - by up to 480kg according to the headline figure. As ever, it's not quite that simple: the body itself is 250kg lighter, the chassis 130kg, with the rest coming from the fact that the entry-level engine is no longer a V6 turbodiesel, but a 2.0-litre four-cylinder from Land Rover's Ingenium family. (As I write, that's the only engine I've driven; we'll try more today and update this story accordingly.)