What is it?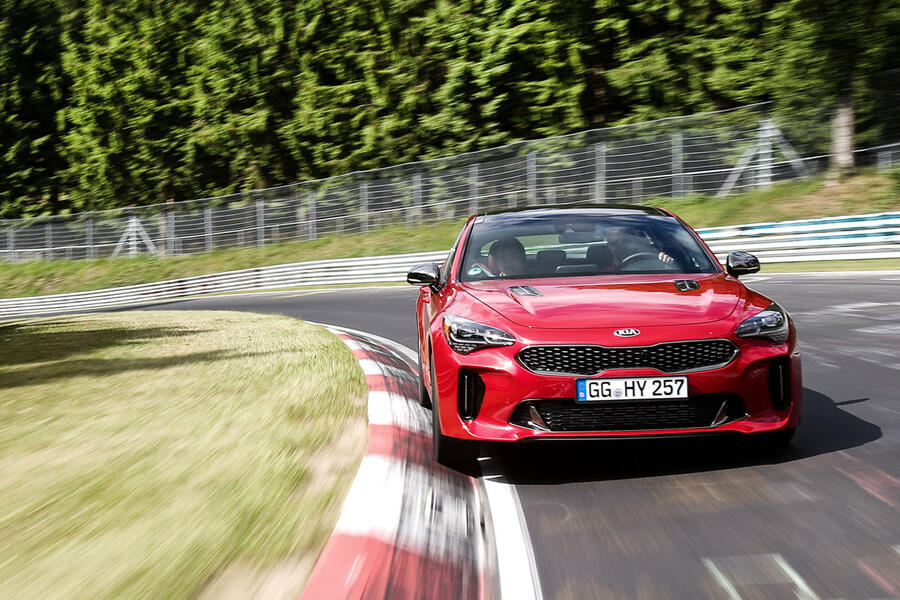 The Kia Stinger feels like it could be the beginning of something big for its Korean maker. Alternatively it could be a self-indulgent sideline whose most important legacy is to remind Kia of the potentially ruinous consequences of overreaching itself; only the market will tell – though it certainly feels like the former. It is undoubtedly a risk: a stylish four-door saloon whose mission is to tempt people out of Audis, BMWs, Jaguars, Mercedes and Alfas – built by the company that also brought you the Rio, Cee'd and Sportage.
The ambitiousness of this car may seem even greater to us Europeans than elsewhere in the world, where big, moderately expensive Kia saloons such as the K900 and Cadenza already exist. But whatever your perspective, there's no mistaking the statement that the Stinger is intended to make. "We're done with paddling in the shallow end," it says, "and we're tired of playing second fiddle to that bigger sibling brand. We're a world-class car-making outfit. And anything that Europe can do..."
Here's the proof, perhaps. The Stinger, says Kia, is a four-door executive 'gran turismo' done with all the elegance, dynamism and sophistication of a blue-chip European brand. We've had a brief taste of it already, on UK roads and in a prototype. For our second one, Kia laid on access to the Nürburgring Nordschleife and filled the pitlane with a handful of top-of-the-line Stinger GTs: a car whose 370bhp twin-turbo V6 petrol engine and rear-driven, adaptively damped chassis promise pace and handling to bear comparison with an Audi S4 or a BMW 440i.