If you look at it in a certain way, choosing the new mild-hybrid version of the popular Ford Puma ST sport crossover instead of the original pure-petrol version will cost you precisely a tenner.
Deciding between the original pure-petrol car (with a six-speed manual gearbox) and the new MHEV one (with a seven-speed automatic) may therefore seem a simple decision: use less fuel and emit less CO2 for a tiny extra outlay. But it's nowhere near that simple.
The Puma ST's petrol-manual powertrain is the familiar 198bhp 1.5-litre three-cylinder turbo set-up that we all know and admire from the now-departed Fiesta ST. It returns a combined 42.8mpg on WLTP test cycle, emits 149g/km of CO2 and gives the car a decent 0-62mph sprint time of 6.7sec.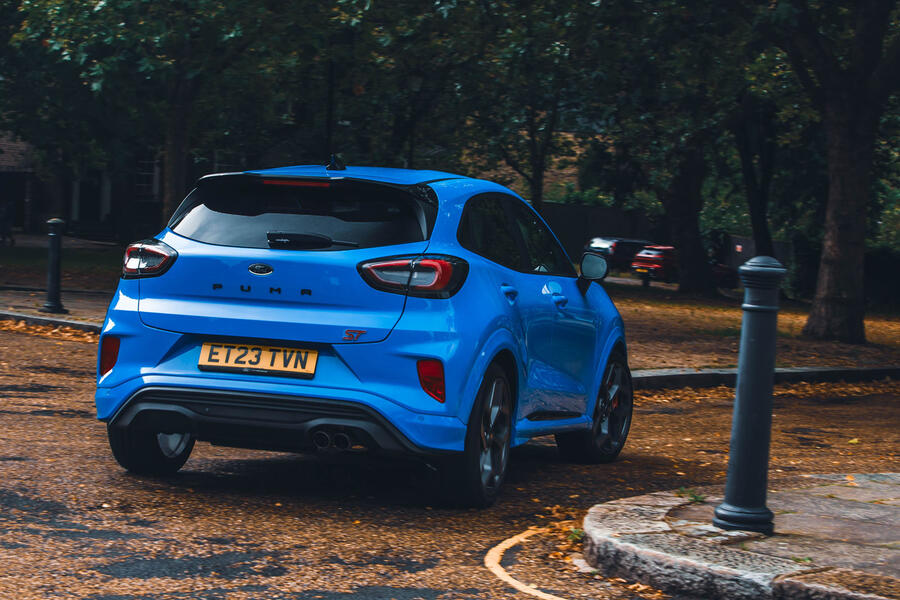 However, the Puma ST Hybrid uses the smaller, 1.0-litre turbo triple as its main powerplant, linked to an integrated 48V starter-generator that can collect modest amounts of electrical energy when the car is slowing and deploy it again when the car accelerates.
Compared with more effective, more frugal hybrids (Toyota's, for example) this system is relatively simple to engineer and, well, a bit token. Its main claim to fame is that it equips those who don't want to shift their own gears with a handy dual-clutch unit, complete with easy-to-use shift paddles discreetly mounted behind the steering wheel's horizontal spokes.
However, the mild-hybrid's improvements in emissions and fuel economy are modest indeed. Its combined figure is 44.8mpg – up by less than 5% – and its CO2 output declines by less than 3%.
To get that, you're choosing an engine that delivers 168bhp instead of 198bhp, so 15% less; and a model that's 0.7sec slower from 0-62mph, a relatively easily detectable margin.
What are the upsides? One is that if your preoccupation is to buy a self-shifting hot hatchback, the Puma ST doesn't require you to fork out the usual automatic margin – often up to £1500.