Why we're running it: To find out if plug-in hybrid power and eight seats give Ford's iconic van greater lifestyle appeal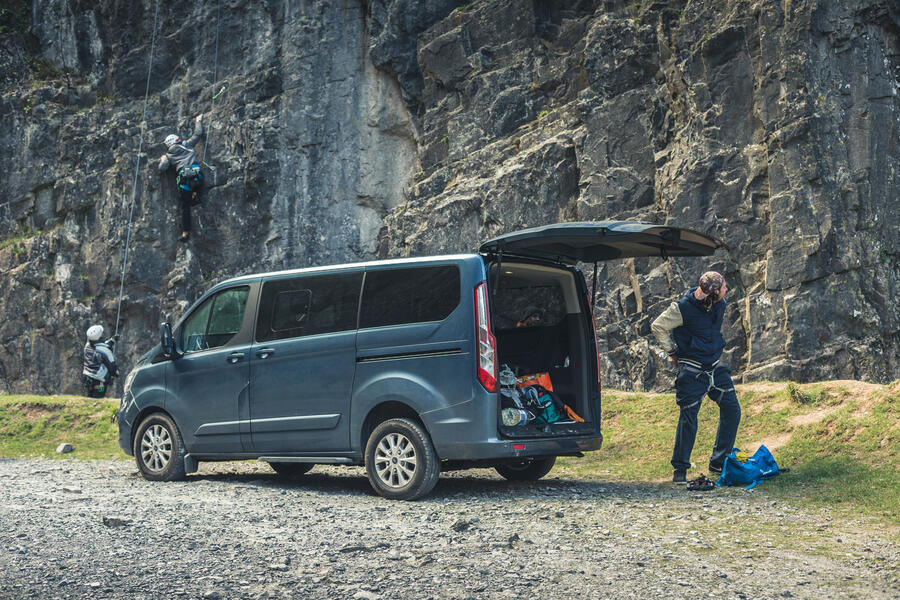 Life with a Ford Tourneo: Month 1
Welcoming the Tourneo Custom to the fleet - 28 April 2021
Spend almost any length of time on a UK motorway and you will be sure to spot a Transit. The iconic Ford has seemingly been the country's favourite van forever, so it's no surprise that it's advertised with the slogan 'Backbone of Britain'.
That popularity hasn't made it immune from the push towards electrification, but rather than force drivers to choose between payload and range by offering only an electric Transit (that will join the line-up in 2022), Ford has also created a plugin hybrid. But does something that works so well for commuters make sense in a load-lugger? We aim to find out, having just taken delivery of the Transit's people-carrying sibling.
The so-called Tourneo Custom swaps a cavernous cargo bay for eight seats and its sliding doors gain windows, but otherwise the two takes on the Transit formula are a lot alike. Both use the same powertrain: a 1.0-litre turbocharged three-cylinder petrol engine and 124bhp electric motor paired with a 13.6kWh battery. Here it promises 33 miles of zero-emissions driving, or a combined range of around 300 miles.
That sounds perfect for an executive shuttle that can shut off its engine when venturing into clean-air zones. However, unlike the current crop of plug-in hybrid SUVs, the Tourneo Custom is a range-extender: its petrol engine never powers the wheels directly, meaning you get the best efficiency only when undertaking shorter journeys and regularly charging. Will that make it ill-suited to thelong trips required from a photographer's main mode of transport? I'll be finding out over the next few months, and I've been told by other members of the Autocar team that mastering the driving modes will be key.
The Tourneo has four, defaulting to an automatic mode that balances battery power with engine use. You can force it to run on electricity alone, prioritise the range-extender to maintain your existing charge or force the engine to charge the battery as you drive so that you'll have juice for some EV driving later. Two stages of regenerative braking effectively let you drive with a single pedal, but I've already noticed how much jerkier it feels in the higher setting.