We know what Mercedes' performance division is capable of when given free rein by the high-ups in Stuttgart. AMG's new GT Black Series packs more power than the McLaren 720S, the A45's engine is the most powerful four-cylinder unit in series-production and the forthcoming One hypercar is, to all intents and purposes, 2016's title-winning F1 car with numberplates.
However, when the SLS burst onto the scene in 2010, it was something of an unknown quantity. AMG had made a name for itself producing unhinged, V8-packing versions of Mercedes' premium saloons, but here was a purpose-built supercar that had to at once launch AMG as a stand-alone brand, carry the flame of its McLaren-developed SLR predecessor and do justice to the legacy of 1954's inimitable 300 SL 'Gullwing'. No small to-do list, but don't let the long nose fool you: this car is no Pinocchio. As a debut bespoke model, the SLS did for AMG what Please Please Me did for The Beatles – although with much less twisting and a lot more shouting.
Click here to buy your next used car from Autocar
Some saw Affalterbach as making a rod for its own back with the SLS's overt stylistic and promotional nods to what was once the world's fastest road car. But these doubts were soon quelled by the ferocity of its 563bhp 6.2-litre V8 – so wildly reworked from that used in the C63 that AMG gave it a unique engine code: M159.
With a 0-62mph time of just 3.9sec and a top speed of 196mph, the SLS was well-placed to take on the Ferrari 458, Lamborghini Gallardo and McLaren MP4-12C, and it still raises heart rates today.
The SLS's accurate handling, super-quick steering and detectable rigidity also impressed our testers, even if the low-speed ride was really just too firm for boulevard cruising.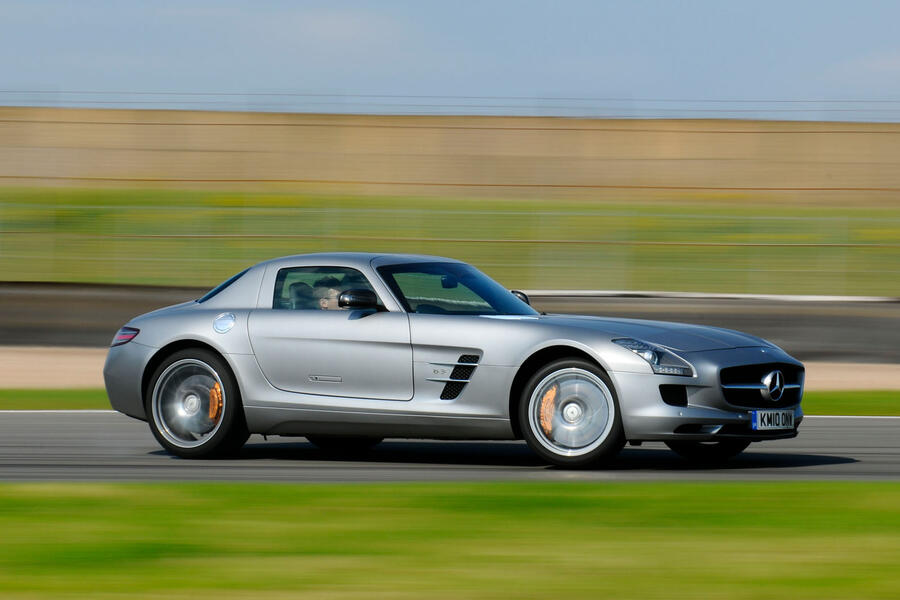 More potent still was the GT version, which arrived in 2012 with a 20bhp boost, slicker gearchanges, uprated suspension, new wheel designs and bespoke interior options, including the coveted quilted leather that commands big money today.
The ultra-rare and even more brutal Black Series, launched in 2013, headed up the range with 622bhp and a characteristically imposing bodykit. However, most people can remove this from their watch list because, even when an example does pop up for sale, the asking price is going to be well north of £600,000.
In fact, all variants are holding their value extremely well, to the point that you would have to seriously weigh up the SLS's investment potential versus its performance capability in light of more modern competition (Lamborghini Huracán Evo RWD for £164,000, anyone?).
The lower end of the market is dominated by early coupés and convertibles, which are harder to sell, due to their lack of gullwing doors. But given prices were topping out at about £100,000 just six years ago, it stands to reason they won't come back down any time soon. If you have the urge and the means, act now.