Lexus has revealed the production version of its LC Convertible in '500' V8 form, alongside confirming some of the model's final specifications.
Expected to go on sale in the UK in the first half of 2020, the LC Convertible debuts first as the LC 500: like the coupé, it's powered by a 465bhp 5.0-litre naturally aspirated V8. No performance figures are quoted, but Lexus quotes a weight figure of 2040kg - just over 100kg more than the coupé.
As such expect it to be capable of 0-62mph in around five seconds, but the top speed may be dropped from the 168mph of the coupé. The LC Convertible also expected to be offered in V6 hybrid form at a later date.
With a contoured rear deck designed to store a retractable roof, the convertible retains the same dimensions as the LC coupé. It has a near-identical interior featuring the same 2+2 layout setting it up as a rival for high-end convertibles such as the Porsche 911 Cabriolet and BMW 8 Series Convertible.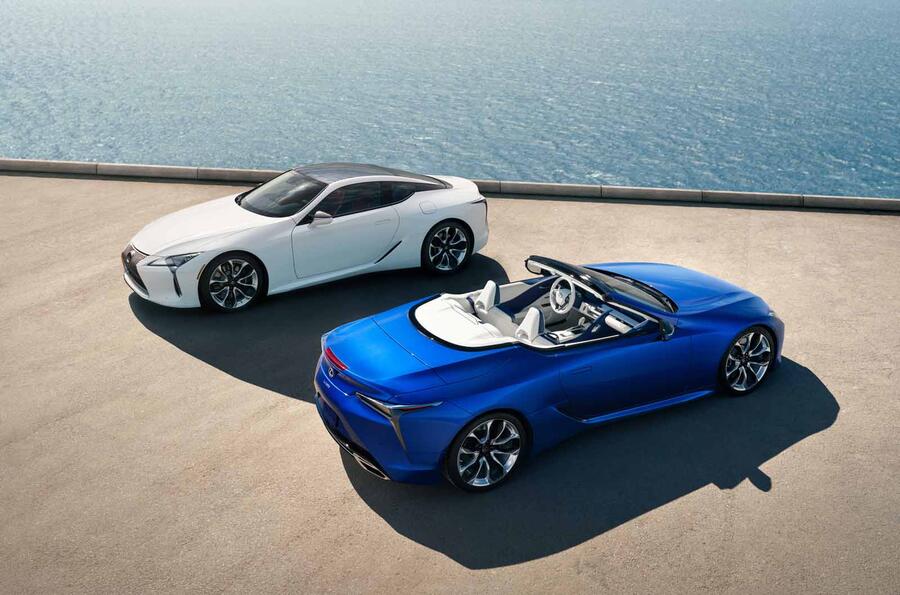 The Japanese maker claims to have retained "similar handling dynamics" to the LC500 coupé, with added structural bracing to improve chassis rigidity plus a unique suspension tune, with what Lexus describes as "a performance dampener" that's said to boost ride comfort.
As expected, the LC500 makes use of a lightweight, simple fabric-top roof mechanism that's similar to the kind used by most rivals. Lexus claims the four layer roof's innovative folding technique allows engineers to "focus on accentuating the sleek lines of the convertible without the significant intrusions to trunk and cabin space that can come with a heavier, bulkier hard top.
The roof, whose supporting frame isn't visible through the fabric, can be opened and closed at speeds up to 31mph, opening in just 15 seconds and closing in 16. The car can also automatically manage its air-con, seat heaters, neck heaters and steering-wheel heater to keep the cabin at the ideal temperature, even with the roof down.