EPAS – Electric power-assisted steering steering – started off as a not so popular new technology a few years ago and most road testers didn't like it much. Now, it has evolved with different technical solutions helping with the steering effort and it has also become much smarter.
Power steering systems were originally all hydraulic, with pressure generated by a simple engine-driven pump forcing fluid through the system in a continuous loop. When a driver turns the wheel, they not only put mechanical force into the steering gear but also open a valve allowing a piston to lend a hydraulic hand. Electro-hydraulic systems are still hydraulically actuated, but the power steering pump providing the pressure is driven by an electric motor, rather than the engine, for greater efficiency.
The word that matters most in all this is 'assisted' because, in all PAS systems, the driver is still mechanically connected to the wheels. So if the hydraulic or electric system lets go, there's little chance of you disappearing through the nearest hedge. That said, the steering is likely to get uncomfortably heavy.
Modern rack and pinion hydraulic power steering systems have a rotary valve at the end of the steering column, with integral pistons in the steering rack.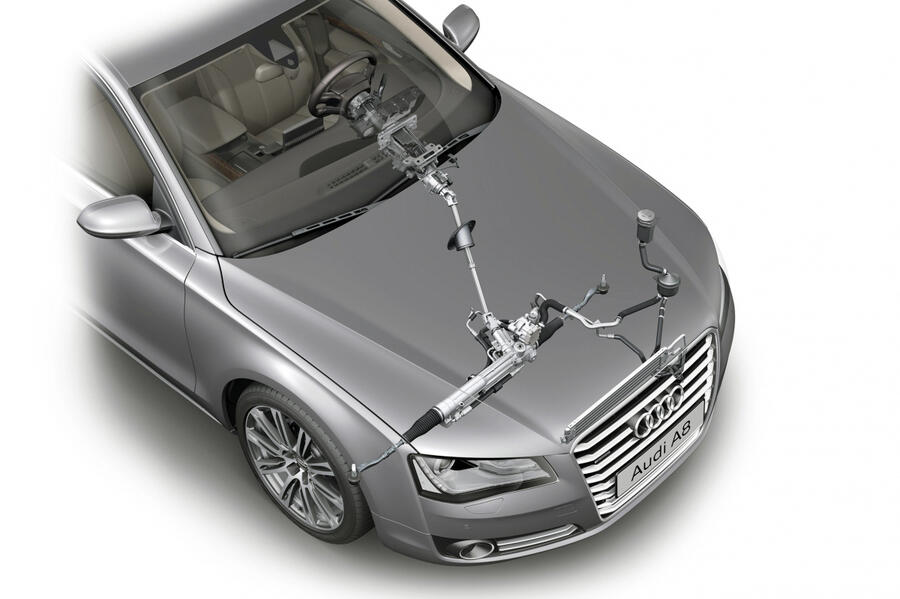 Pure EPAS systems rely on an electric motor to provide the assistance but the way in which that can happen varies. One method is to attach a motor to either the top or bottom of the steering column and the latest is to lie a motor horizontally alongside the rack, driving an internal mechanism via a belt to help move the rack from side to side. All systems have sensors to detect when the driver is feeding torque into the column (turning the wheel) and software to control what it does.
The last bit is crucial and where manufacturers are able to control the kind of feel the steering has. The software algorithms are tuned to influence driving characteristics such as how much feel there is at different points (like the famous over-centre feel), any speed sensitivity and feedback when cornering near the limits of grip and self-centring.