Luxury SUV drivers like a bit of added value. They're roomwith-a-view, table-by-thewindow, seat-with-the-extra-leg room kind of people, or so you'd imagine – and, given the choice, who wouldn't be?
Now those lucky people can have the parking space nearest the front door of the motorway services, too. The plug-in hybrid petrol-electric luxury SUV is here – and here in numbers.
Two years ago, Porsche pioneered the sub-species with its Cayenne S E-Hybrid. Late last year, Mercedes dipped its toe with the Mercedes-Benz GLE500e. And this year Volvo, BMW and Audi are all jumping on the bandwagon. A micro-niche is becoming better established, more varied and much more interesting.
Whether it will flourish in Europe as vividly as it's likely to elsewhere remains to be seen, but there's a chance that it might. That's because where both the Porsche Cayenne and GLE are powered by force-fed multicylinder petrol engines tailored, you suspect, for non-European tastes, the new Volvo Volvo XC90 T8 and BMW X5 xDrive40e use downsized fourcylinder engines instead. Engines that just might produce the realworld medium and long-range fuel economy to rival a conventional diesel. Later this year, Audi's Audi Q7 e-tron will also bring the first V6 diesel-electric plug-in powertrain to the market, but for the purposes of this test, we're looking to the new Volvo and BMW to set the standard.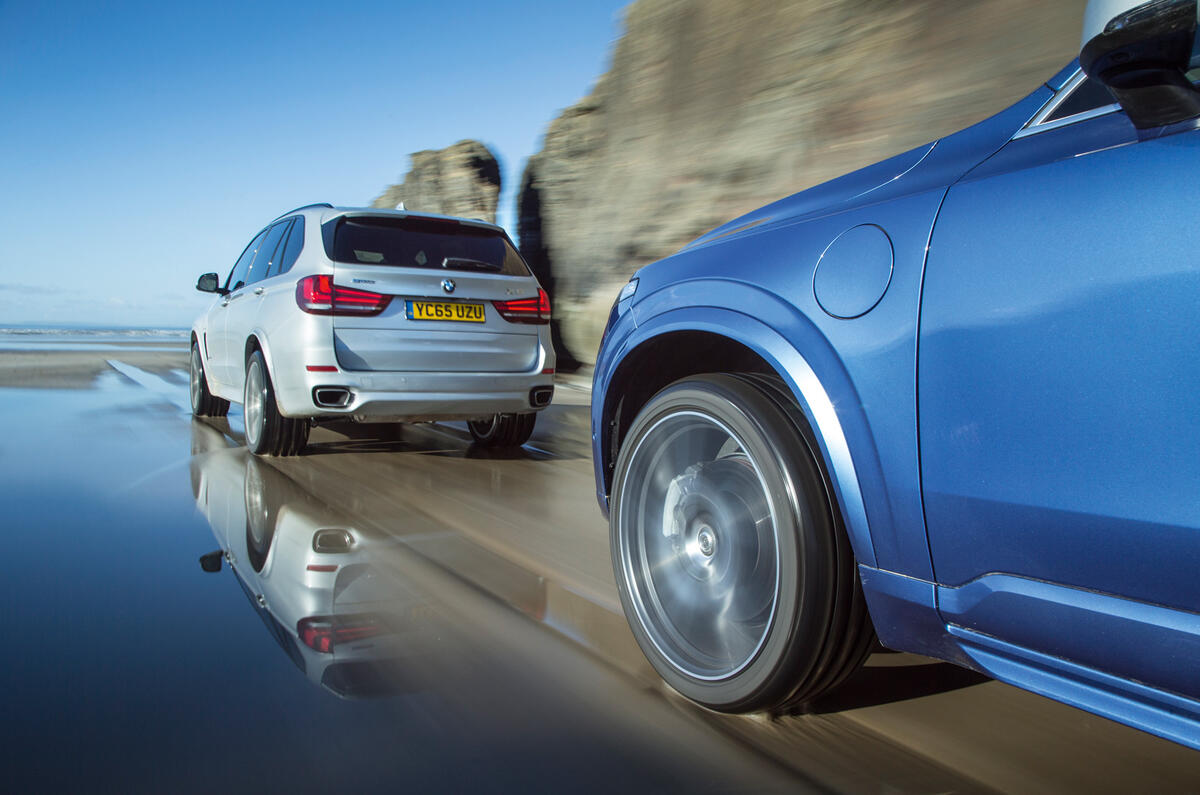 It's strange that it's taken so long for European car-makers to 'electrify' their big SUVs, because they were always prime candidates for the treatment. Inherently large, heavy, complicated and expensive, they present the designer and engineer with plenty of packaging space in which to accommodate electric motors and batteries, plenty of opportunities for the enhancement of performance and off-road ability through the new technology and plenty of profit margin in which to hide the extra cost. Plenty of sprung mass, too – which torquey electric motors tend to deal with rather better than piston engines, and actually rely on when funnelling kinetic energy back into those batteries under regenerative braking.