The Tesla Model 3, the American firm's third model and an all-electric rival for the BMW 3 Series, Mercedes-Benz C-Class and Audi A4, will be revealed early on Friday morning.
The Tesla Model 3 has now been unveiled. Click here to read about it.
The unveiling of the Model 3 will take place via a live stream event, which you can watch
The Tesla Model 3 has now been unveiled. Click here to read about it.
Prices for the Model 3 have yet to be set, but in the US it's expected to cost around $35,000, which is equivalent to around £25,000. However, once the cost of bringing the car to the UK has been taken into account, prices are likely to rise to around £35,000.
Few details about the Tesla Model 3 have been revealed, but sources have indicated that performance up to 62mph could eclipse that of the BMW M3, which records a 0-62mph time of 4.1sec. Sources suggest the Model 3 will have a range of up to 300 miles on a single charge.
Initially, it was thought that Tesla's crucial third model would arrive late last year, but Tesla boss Elon Musk has since explained that his firm's Gigafactory - which will produce batteries for all Tesla vehicles - needed to be up and running before the car came out. The Gigafactory is currently being built with partner Panasonic and is due to open in 2017. It's claimed the Gigafactory will revolutionise the way in which batteries are produced for electric vehicles and bring crucial economies of scale for Tesla.
Chris Porritt, Tesla's vice-president of engineering, has previously told Autocar: "I expect there will be very little carry-over [from the Model S]. We've got to be cost-effective. We can't use aluminium for all the [small car's] components." This suggests that the Model 3 will use mostly steel in its make-up, although it will probably use bonding and rivets in its construction.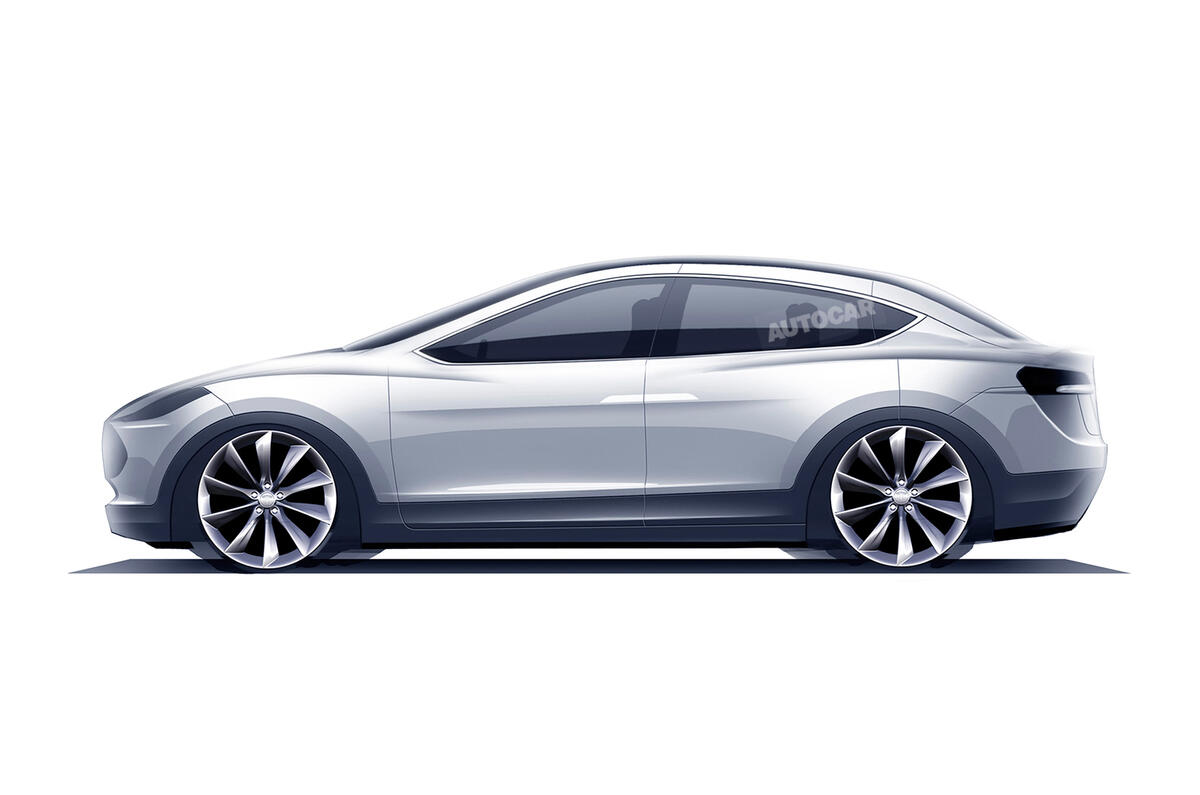 Tesla's chief designer, Franz von Holzhausen, has told Autocar the Model 3 will feature more distinctive styling than that of the relatively conventional Model S. "We will become more experimental as we develop as a brand," he said. "Our cars need to have some personality." However, the brand's hallmarks, including a black, closed grille and a large central touchscreen infotainment system, are likely to feature.
Tesla insiders have also revealed that the Model 3 has been engineered to accommodate a number of different bodystyles if the manufacturer decides to make them. As well as traditional estate and coupé options, company bosses have previously talked about making a Tesla pick-up.