Renault will reveal a production-ready economy electric compact model, the City K-ZE, at the Shanghai motor show. The global "SUV-inspired" model will be first launched in China and offer 155 miles of range on the outgoing NEDC cycle.
UPDATED: Renault City K-ZE: production version of budget EV revealed
The car maker revealed a concept version of the City K-ZE on the eve of last year's Paris motor show.
Renault has chosen Shanghai to reveal the new model because China is the fastest-growing global market for EVs. A successful launch will determine the viability of a subsequent European variant.
At the reveal of the concept, then-chairman and CEO of Renault Carlos Ghosn also confirmed that a hybrid Clio and plug-in hybrid Captur and Mégane variants would arrive in Europe in 2020, but gave no details on range. Ghosn added that Renault had been investing in EVs for over a decade, and that it was the only firm to make profit from EVs so far.
The vehicles form the next stage in Renault's electrification strategy.
Called Drive the Future, it said that by 2022, Renault will have eight EVs and 12 electrified (plug-in or mild-hybrid) vehicles. The City K-Ze follows Renault's five existing EVs: the Twizy, Zoe, Kangoo ZE, Master ZE and the Korea-only RSM SM3 ZE. While Renault's electric Zoe supermini remains at the forefront of electric car sales – beaten by only the Nissan Leaf for sales globally – the French car maker has been slow to reveal new electric cars, instead expanding its zero-emission van range.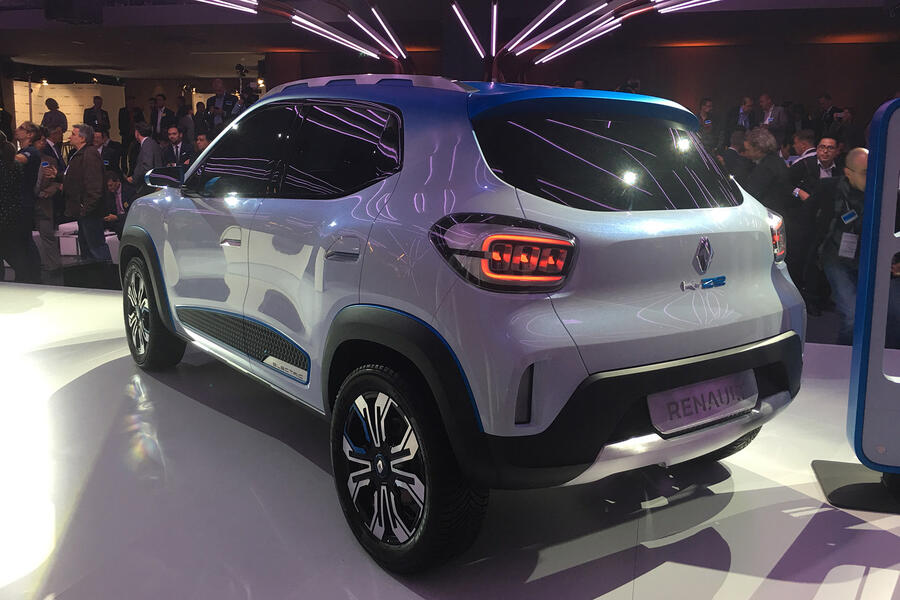 The Twingo-sized City K-ZE, which will sit below the Zoe in dimensions and cost, will arrive in China first because it is the fastest-growing market for electric cars, said Renault. The final car is expected to stay very close to the concept version in terms of design.
"Developed markets or developing market can get this car. For me, this is a real revolution. This is car is going to be extremely competitive on all markets in the world," Ghosn said.
The baby EV will be manufactured in China by eGT New Energy Automotive Co, the joint venture with Dongfeng Motor Group and Nissan, created "to develop and produce competitive electric vehicles for the Chinese market", according to Renault. It is not yet clear where European-sold K-ZE models will be made.