The new Porsche 718 Cayman GT4 RS, Porsche Porsche Taycan GTS and Taycan Sport Turismo have now been revealed at the LA motor show.
The hottest Porsche 718 Cayman has been described by its maker as "perfectly irrational", promising quicker laptimes over the existing GT4 courtesy of its lower kerb weight, added power and increased downforce.
Porsche has all but confirmed, meanwhile, that one of the new Taycan variants will be the long-awaited GTS. It will be positioned between the 4S and Turbo variants – a gap that is filled in the Panamera and Taycan line-ups by the lower, stiffer and black-themed GTS models. Expect a similar treatment for the Taycan.
Details of the third bodystyle variant are less concrete, but Autocar reported earlier this year that Porsche was considering a lower-slung, less off-road-oriented version of the Taycan Cross Turismo. Removing the 4x4-inspired body cladding and bringing the suspension back down to the saloon's height would provide the manufacturer with a true electric alternative to the Panamera estate.
Several development mules of the more focused version of the latest 718 Cayman GT4 have already been spied testing on the Nürburgring. A late-stage test run saw a prototype lap the 12.9-mile Nordschleife in 7min 9.300sec. On the shorter, 12.8-mile version of the circuit that Porsche has previously used for development, the model achieved a claimed 7min 4.511sec lap, which, the firm says, is 23.6sec faster than the regular 718 Cayman GT4.
A large, bespoke rear wing – significantly larger than that of the standard GT4 - appears to be mounted higher and to use a new mounting design. Also changed over the standard GT4 are the wheels, which forego the traditional five-lug pattern in favour of a motorsport-inspired centre-lock mechanism that hints at the car's track potential.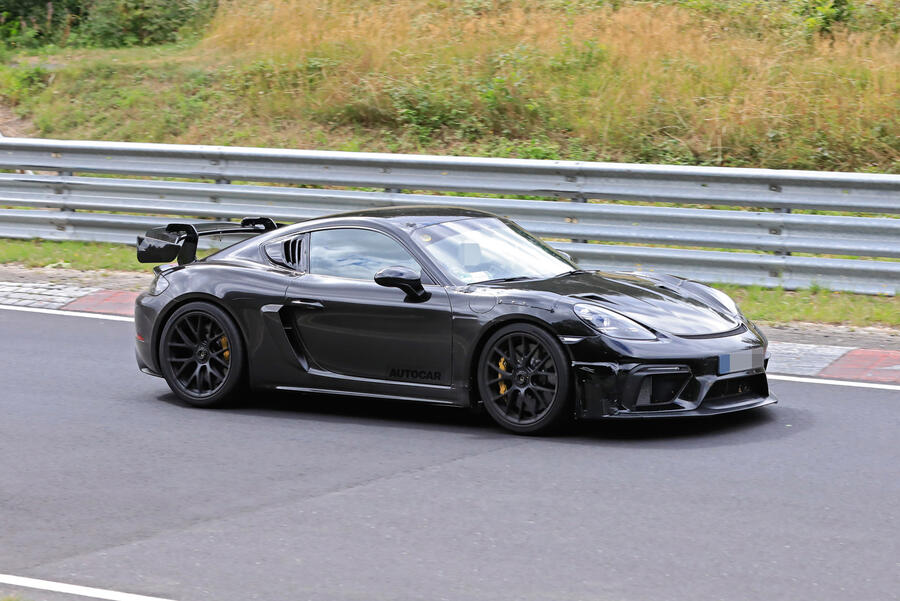 The man in charge of the 718 and 911, Frank-Steffen Walliser, told Autocar at the Frankfurt motor show in 2019 that he would "definitely" like to see a faster and even more focused RS version of the new 718 Cayman GT4 but that the decision hinged on prioritising development resources within Porsche.
"Everybody's asking for the RS," Walliser told Autocar. "Can I imagine a GT4 RS? Sure I can. That's not to say we will make a decision on it yet, as it is a challenge. Would I like such a car? Yes, definitely! Would I like more horses? Yes. But we need to put the resources where the market is; it would be a lot more expensive than the normal one."