Volkswagen is set to unveil a new electric large SUV, called the ID Roomzz, at this month's Shanghai motor show, as it prepares the next wave of its electric ID range.
UPDATED: Volkswagen Roomzz concept previews 2021 Model X rival
The ID Roomzz, first revealed by Autocar in December, is a luxurious seven-seat premium offering designed to rival the Tesla Model X. Volkswagen sources say it has already been approved for production, and it is due to launch in selected markets, including the US and China, in 2022.
The German maker has also confirmed that the concept will preview Level 4 autonomous driving features in a system called ID Pilot. Level 4 is the stage whereby a driver still needs to be present, but the car has full control the majority of the time.
The ID Roomzz - previously codenamed ID Lounge - will be the fifth mainstream model to be revealed from the marque's ID line-up, all of which are based on the Volkswagen Group's new MEB electric platform. The production version of the ID hatch will be launched later this year, followed by that of the ID Crozz SUV, ID Buzz MPV, ID Buzz Cargo van and ID Vizzion saloon.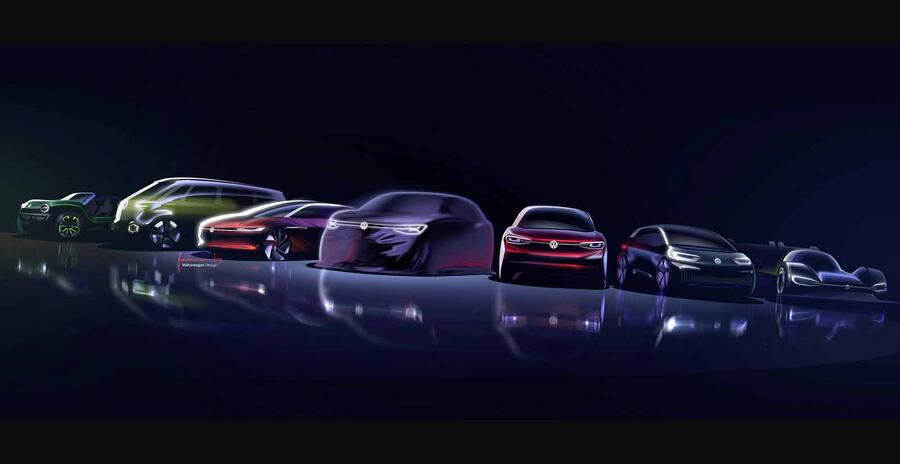 Several more ID machines are under development. According to sources, these include an ID Crozz Coupé variant and an estate version of the ID Vizzion. An even larger SUV, which shares a platform with the long-wheelbase version of the ID Buzz and offers a range of at least 370 miles from a 111kWh battery, is tipped to make its debut at December's Los Angeles motor show. VW is also working on a smaller electric 'people's car'.
In the build-up to the launch of the ID hatch, Volkswagen will also confirm its naming plan for the ID range. Recent trademark applications suggest that, instead of using the concept names, machines will be numbered from ID 1 to ID 10. Sporting models will be given additional GTX identification, in a nod to the GTI badge.